Leuzea Carthamoides Extract
Leuzea Carthamoides Extract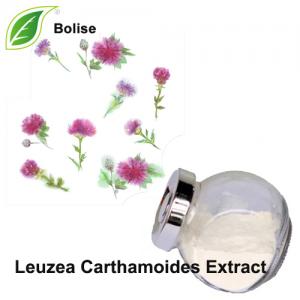 [ Botanical Name ]  Lobelia chinensis Lour./Herba Lobeliae Chinensis
[ Detection method ]  HPLC
[ Specification ] 10:1, 20% Beta-Ecdysterone, 20-hydroxyecdysone 20%
[ Used Part] Root
[ Appearance ] White to white crystalline powder
Application of Leuzea Carthamoides Extract
1. Pharmaceutical ;
2. Functional food and food additive;
3. Cosmetics additive;
COA of Leuzea Carthamoides Extract
Loss on drying: 4.5%
Ash: 2.35%
Mesh Size: 100% pass 80 mesh
β-ecdysone: ≥95%
Heavy metal: ≤10ppm
As: ≤2.0ppm
Residual Pesticide: Negative
Total Plate Count: ≤1000cfu / g
Yeast & Mold: ≤100cfu/ g
Salmonella: Negative
E. Coli: Negative
About Leuzea Carthamoides Extract
Leuzea Carthamoides Extract contain tannins, phytoecdysones, flavonoids, glycosides, lignins, alkaloids, vitamins, organic acids and some yet-to-be-identified compounds.
Leuzea Carthamoides Extract has been traditionally used as a stimulant, for overcoming impotence, and to assist convalescence from long illness. Russian and Eastern researchers have found that Leuzea Carthamoides Extract has a beneficial effect on memory and learning, and can help break addictive behaviours. It increases working capacity in tired skeletal muscles, relieves neurosis, and benefits anabolic and adaptogenic processes Gadzhieva, R.M. et al. (1995). It enhances speed, strength, and functioning of the muscle system. Leuzea Carthamoides Extract has been used by Eastern Bloc athletes as a non-hormonal natural anabolic, adaptogen, and bio-stimulant.
[ Storage ] Store in cool and dry place. keep away from strong light and heat.
[ Shelf life ] 24 months.
For more information of product, please send the email to bkherb@globals-globals.com


After send online enquiry, we will reply you as soon as possible, if not get any response on time please contact us by Tel or Email.This form is unable to receive your inquiry from aol, hotmail, gmail or others but company email address.
E-MAIL:bkherb@globals-globals.com
TEL: +86 592 536 5868
WHATSAPP: +86 189 6516 2351