Lettuce Extract
Lettuce Extract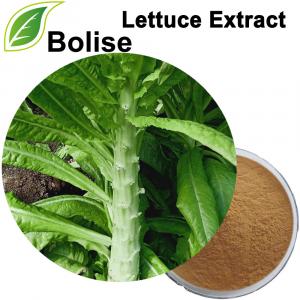 [ Other Name ]  Lactuca Virosa Extract 
[ Latin name ]  Lactuca Virosa
[ Specification ]  10:1
[ Part Used ] Stem
[ Appearance ]  Brown yellow powder
[ Function ] 
1. Antibacterial effect, inhibiting the growth of Candida albicans
2. Hepatoprotective effect
3. Contains a large amount of plant cellulose, which can promote intestinal peristalsis, clear the digestive tract, help stool excretion, and can be used to treat various constipation
4. Beneficial for patients with iron deficiency anemia
5. It has a high inhibition rate on some cancer cells, so it can also be used to prevent cancer and fight cancer
About Lettuce Extract
Lettuce Extract can promote blood circulation, and the rich vitamins and various mineral elements in it can play an anti-cancer effect and inhibit the growth of cancer cells.
Lettuce Extract is rich in mannitol, and proper intake will have many benefits to the human body, not only diuresis, eliminating edema, but also promoting blood circulation.
For more information of product, please send the email to [email protected]


After send online enquiry, we will reply you as soon as possible, if not get any response on time please contact us by Tel or Email.This form is unable to receive your inquiry from aol, hotmail, gmail or others but company email address.
E-MAIL:[email protected]
TEL: +86 592 536 5868
WHATSAPP: +86 189 6516 2351