Kappaphycus Alvarezii Extract
Kappaphycus Alvarezii Extract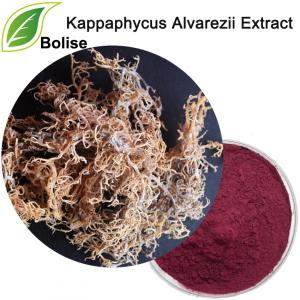 [ Appearance ] Purple red fine powder
About Kappaphycus Alvarezii Extract
Kappaphycus alvarezii is considered as the main source of Kappa carrageenan, a hydrocolloid used in various industries as an emulsifying agent and stabilizer. In the production process of this raw material, the fresh seaweed is subjected to grinding and filtering process, yielding a wet solid fraction rich in carrageenan and other liquid fractions. 
Carrageenan is widely used in industrial productions of food, medicine and cosmetics. It is mainly used as a coagulant, thickener, binder, suspending agent, emulsifier, and stabilizer. Kappaphycus alvarezii extract can inhibit the production of melanin. Combined with its antioxidant properties, it can be used as a brightener. 
The main functions of Kappaphycus alvarezii extract in cosmetics and skin care products is skin conditioner. The risk factor is relatively safe. It can be used with confidence and generally has no effect on pregnant women.
Belonging to red algae, Kappaphycus alvarezii contains multiple vitamins and gums, which can maintain skin elasticity, ensure smooth skin, moisturize and lock water, and nourish skin.
For more information of product, please send the email to sales@boliseco.com


After send online enquiry, we will reply you as soon as possible, if not get any response on time please contact us by Tel or Email.This form is unable to receive your inquiry from aol, hotmail, gmail or others but company email address.
E-MAIL:sales@boliseco.com
TEL: +86 592 536 5868
WHATSAPP: +86 189 6516 2351