Kale Leaf Extract
Kale Leaf Extract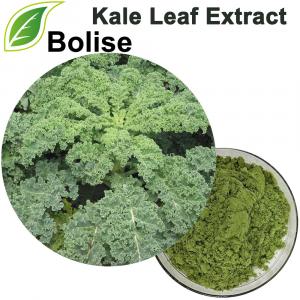 [ Latin Name ]  Brassica oleracea var. acephala DC.
[ Appearance ]  Light Green Powder
[ Specification ] 10:1 98% 99% 
[ Plant used ] Leaf
[ Active ingredients ]  Beta carotene (precursor of vitamin A) and vitamin C.
[ Function ]
1. Help losing weight.
2. Improve skin health.
3. Lower cholesterol.
4. Can relieve menopausal.
5. Effectively treat indigestion and loss of appetite.
6. Contained in crude fiber, can promote large intestine peristalsis, and help move bowels and the excretion of toxins, prevention of constipation and colon cancer.
[ Application ]
1.Applied in medicine field.
2. Applied in food field.
3. Applied in health product field.
About Kale Leaf Extract
Kale Leaf Extract is a natural source of calcium, iron, beta carotene, and vitamin C. Kale is part of the cruciferous group of vegetables; along with cabbage, cauliflower, broccoli, and others; which have been studied for their health promoting properties. Kale is also a good source of dietary fiber and a natural source of vitamin A (in the form of carotenoids), vitamin K, and manganese. It is also a source of copper, tryptophan, vitamin B6, potassium, magnesium, vitamin E, vitamin B2, protein, vitamin B1, folate, phosphorus, and vitamin B3. Also worth noting in kale's nutritional profile is its vitamin K content. Kale contains nearly twice the amount of vitamin K as most of its fellow cruciferous vegetables.
For more information of product, please send the email to [email protected]


After send online enquiry, we will reply you as soon as possible, if not get any response on time please contact us by Tel or Email.This form is unable to receive your inquiry from aol, hotmail, gmail or others but company email address.
E-MAIL:[email protected]
TEL: +86 592 536 5868
WHATSAPP: +86 189 6516 2351