Jaborandi Leaf Extract
Jaborandi Leaf Extract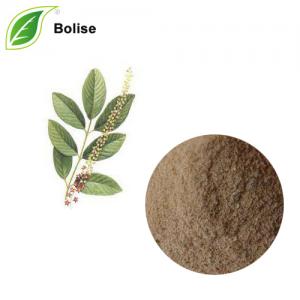 [ Botanical Name ]  Pilocarpus jaborandi, Rutaceae
[ Appearance ]  Yellow brown powder 
COA of Jaborandi Leaf Extract
Assay: 10:1
Mesh Size: 100%pass 80 mesh
Loss on Drying:  ≤5%
Heavy Metal:  ≤10PPM
As: ≤2PPM
Total Plate Count: ≤1000cfu/g
Yeast&Mold: ≤100cfu/g
E.coil:  Negative
Salmonella:  Negative
About Jaborandi Leaf Extract
Jaborandi leaf extract is mainly used in herbal and conventional medicine. One of the by products from the leaf is Pilocarpine which is primarily used to treat glaucoma. this is an eye disease affecting millions of people around the world, eventually causing blindness. The leaf compounds can also be used to stimulate perspiration and salivation for dry mouth. It is particularly helpful in cancer patients who have dry mouth from chemotherapy.
Jaborandi Leaf contain pilocarpine,can support the preventive oral health care using safe.
Jaborandi Leaf is considered to provide relief from various skin related disorders. The application of the Leaf opens pores, removes sebum and other pore-clogging debris from the scalp. 
For more information of product, please send the email to bkherb@globals-globals.com


After send online enquiry, we will reply you as soon as possible, if not get any response on time please contact us by Tel or Email.This form is unable to receive your inquiry from aol, hotmail, gmail or others but company email address.
E-MAIL:bkherb@globals-globals.com
TEL: +86 592 536 5868
WHATSAPP: +86 189 6516 2351