Horse Chestnut Extract(Buckeye Extract)
Horse Chestnut Extract(Buckeye Extract)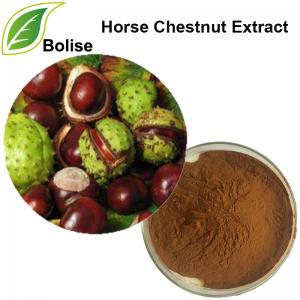 [ Other name ]  Semen Aesculi Extract; Buckeye Seed Extract; Horse Chestnut Seed Extract
[ Botanical Name ] Aesculus Hippocastanum L.
[ Used Part ]  Fruit
[ Appearance ] Brown powder
[ Specification ]  20% Aescin   97%Aescigenin 
[ Detection method ] UV
[ Main Contents ]  Aescin
[ Functions ] To regulate the flow of qi, normalize the stomach function and relieve pain.
[ Indications ] Distress in the chest, distension in the abdomen, epigastric pain.
[ Application ]
Food, pharmaceutical and cosmetic.
COA of Horse Chestnut Extract(Buckeye Extract)
Loss on drying: 3.64%
Residue on Ignition: 3.12%
Mesh Side: 100% pass 80 mesh
Residual solvents: ≤0.05%
Ratio extract: 10:1
Heavy metal: ≤20ppm
As: ≤0.5ppm
Pb: ≤0.5ppm
Cd: ≤0.5ppm
Residual Pesticide: Negative
Total Plate Count: ≤1000cfu/g
Yeast & Mold: ≤100cfu/g
Salmonella: Negative
E. Coli: Negative
About Horse Chestnut Extract(Buckeye Extract)
Horse chestnut is a plant. Its seed, bark, flower, and leaves are used to make medicine.
Aescin is found in horse chestnut extract, which appears to 'patch up' tiny leaks in blood vessels and capillaries, improving their health, strength, and elasticity. Horse Chestnut Extract is widely used in Europe for chronic venous insufficiency, a syndrome that may include leg swelling, varicose veins, leg pain, itching, and skin ulcers.
Buckeye Extract is widely used as nutritional supplement. It is widely accepted as safe additive in many countries.
Horse chestnut seed extract is used primarily as a folk or traditional remedy for chronic venous insufficiency (a condition in which the veins do not efficiently return blood from the legs to the heart). 
Horse chestnut seed extract has also been used as a folk or traditional remedy for hemorrhoids.
[ Packing and Storage ]
Packed in paper drums and two plastic bags inside. Store in well closed container away from moisture.
For more information of product, please send the email to bkherb@globals-globals.com


After send online enquiry, we will reply you as soon as possible, if not get any response on time please contact us by Tel or Email.This form is unable to receive your inquiry from aol, hotmail, gmail or others but company email address.
E-MAIL:bkherb@globals-globals.com
TEL: +86 592 536 5868
WHATSAPP: +86 189 6516 2351