Hedysarum Villosum Extract(Sphaeranthus Indicus Extract)
Hedysarum Villosum Extract(Sphaeranthus Indicus Extract)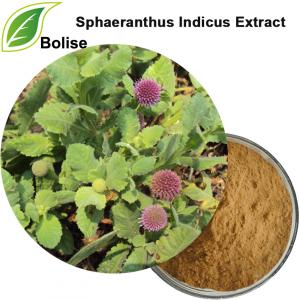 [ Latin name ]  Sphaeranthus indicus L
[ Specification ] 10:1; 20:1
[ Appearance ] Brown Powder  
[ Used Part ] Herb
[ Mesh ] 100% pass 80 mesh
[ Test Method ] UV
[ Used Part ] Leaf
About Hedysarum Villosum Extract(Sphaeranthus Indicus Extract)
Sphaeranthus Indicus Extract is alterative, anthelmintic, bitter, demulcent, deobstruent, depurative, emollient, laxative, pectoral, stomachic and tonic. The flower headss are credited highly with alterative, deobstruent, depurative, refrigerant and tonic properties, useful as a blood purifier in skin diseases and in syphilis. Also useful in weakness of eyesight, elephantiasis and leucoderma. Strengthens the chief organs of the body.
For more information of product, please send the email to [email protected]


After send online enquiry, we will reply you as soon as possible, if not get any response on time please contact us by Tel or Email.This form is unable to receive your inquiry from aol, hotmail, gmail or others but company email address.
E-MAIL:[email protected]
TEL: +86 592 536 5868
WHATSAPP: +86 189 6516 2351