Hawthorn Leaf Extract
Hawthorn Leaf Extract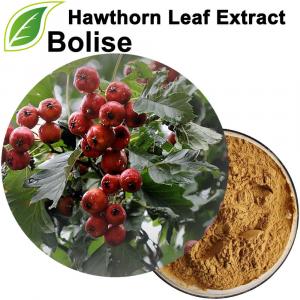 [ Latin Name ] Crataegus pinnatifida Bge.
[ Specification ] Vitexin 2%-10%
[ Part Used ] Leaf
[ Appearance ] Brown Yellow Powder
[ Active Ingredient ] Quercetin,Hyperoside,Vitexin,Rhamnosylvitexin,Sorbitol
[ Function ]
1. Hawthorn leaf can prevent and treat cardiovascular diseases, and has the functions of dilating blood vessels, increasing coronary blood flow, improving cardiac vitality, exciting the central nervous system, lowering blood pressure and cholesterol, softening blood vessels and diuretic and sedative.
2. Hawthorn leaf also has a cardiotonic effect and are also beneficial to senile heart disease.
3. It can appetize and digest food, especially for the elimination of meat stagnation. Hawthorn leaf is used in many digestive medicines.
4. Hawthorn leaf has the effect of promoting blood circulation and removing stasis, which helps to relieve local congestion and has an auxiliary effect on bruises.
5. Hawthorn leaf has a contracting effect on the uterus, it has the effect of promoting birth in pregnant women during labor, and can promote the recovery of the uterus after childbirth.
6. The flavonoids, vitamin C, carotene and other substances contained in hawthorn leaf can block and reduce the generation of free radicals, enhance the body's immunity, and have anti-aging and anti-cancer effects.
7. Hawthorn leaf has the ingredients to relieve asthma and reduce phlegm, inhibit bacteria, and treat abdominal pain and diarrhea.
About Hawthorn Leaf Extract
Hawthorn Leaf Extract is extracted from the dried leaves of Crataegus pinnatifida Bge.var.major N.E.Br. or Crataegus pinnatifida Bge. The main active ingredients are flavonoids, of which vitexin, rhamnoside and hypericin are high in content. It has the functions of lowering blood pressure, increasing coronary blood flow, lowering blood lipids, lowering triglyceride and cholesterol, resisting hypoxia, inhibiting or scavenging oxygen free radicals, resisting lipid peroxidation, improving hepatic microcirculation, and resisting inflammatory damage.It has great clinical value in cardiovascular and cerebrovascular systems.
Hawthorn leaf extract can inhibit platelet aggregation and play an anti-atherosclerotic role in cardiovascular and cerebrovascular aspects. At the same time, it has been widely used as an additive in health care products, food, beverages, cosmetics and other fields.

After send online enquiry, we will reply you as soon as possible, if not get any response on time please contact us by Tel or Email.
E-mail: [email protected]
Tel: +86 592 536 5868
Whatsapp: +86 189 6516 2351
For more information of product, please send the email to [email protected]

1. Send Message to US ->
2. Confirm Product Information ->
3. Order & Payment->
4. Packaging&Shipping->
Our products have been certificated with the ISO certificate, free sample is available.
CGMP Manufacturer to ensure the quality stable and reliable.
All of our ingredients meet strict quality and food safety standards, and surpass industry standards for purity and cleanliness.
We are committed to meeting customers' unique needs by providing comprehensive and professional service, enjoying a good reputation among our business partners and customers for high-quality products, excellent after-sales services, competitive prices, and prompt shipping.
Highly welcome friends from all over the world to contact us. We will reply to you as soon as possible, ​after sending an online inquiry. And please feel free to call us if any urgent inquiry or without getting response from us in time.