Golden Seal Extract
Golden Seal Extract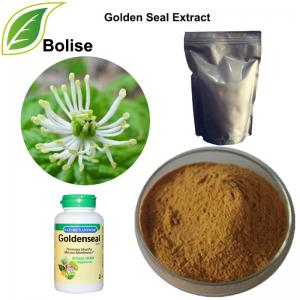 [ Botanical Name ] Hydrastis Canadensis
[ Appearance ] Brown fine powder
[ Used Part ]  Root
[ Test Method ]  HPLC
[ Specification ] 10:1
[ Active Ingredients ] Alkaloid 
[ Function ]
1. Spitting of blood, epistaxis and bematuria due to heat in the blood;
2. Febrile diseases with thirst;
3. Jaundice;
4. Urinary infection with difficult painful urination; edema in acute nephritis.
5. Reducing heat in blood, and diuresis.
COA of Golden Seal Root Powder
Loss on drying:  ≤5.0%
Ash:  ≤5.0%
Mesh Side: 100% pass 80 mesh
Bulk Density:  49.8g/100mL
Extract Ratio:  10:1
Heavy metal:  ≤20ppm
As:  ≤2.0ppm
Extract Solvent:  Water
Residual Pesticide:  Negative
Total Plate Count: ≤1000cfu/g
Yeast & Mold:  ≤100cfu/g
Salmonella:  Negative
E. Coli:  Negative
About Golden Seal Extract
Goldenseal (Hydrastis canadensis), also called orangeroot or yellow puccoon,is a perennial herb in the buttercup family Ranunculaceae, native to southeastern Canada and the northeastern United States. It may be distinguished by its thick, yellow knotted rootstock. The stem is purplish and hairy above ground and yellow below ground where it connects to the yellow rhizome. The plant bears two palmate, hairy leaves with 5–7 double-toothed lobes and single, small, inconspicuous flowers with greenish white stamens in the late spring. It bears a single berry like a large raspberry with 10–30 seeds in the summer.
Goldenseal has been ascribed the following herbal properties (whole herb): bitter, hepatic, alterative, anticatarrhal, anti-inflammatory, antimicrobial, laxative, emmenagogue, and oxytocic.
[ Storage ]  Store in cool and dry place.keep away from strong light and heat.
[ Shelf life ] 24 months.
For more information of product, please send the email to bkherb@globals-globals.com


After send online enquiry, we will reply you as soon as possible, if not get any response on time please contact us by Tel or Email.This form is unable to receive your inquiry from aol, hotmail, gmail or others but company email address.
E-MAIL:bkherb@globals-globals.com
TEL: +86 592 536 5868
WHATSAPP: +86 189 6516 2351