Ginsenoside Rg1
Ginsenoside Rg1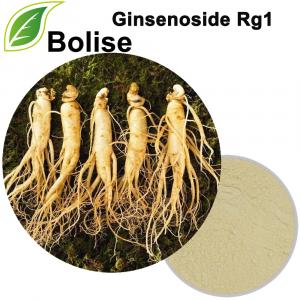 [ Latin Name ]  Panax Ginseng C.A Mayer
[ Plant Source ]  Ginseng
[ Used Part ]  Root
[ CAS No. ] 22427-39-0
[ Molecular Formula ] C42H72O14
[ Molecular Weight ] 801.01
[ Appearance ] Yellow fine powder
[ Function ]
1. Used as anti-fatigue, anti-aging and brain-healthy food in medical and healthcare industries.
2. Applied to the cosmetics industry, can be formulated as freckle, reduce wrinkles, activate skin cells, enhance skin elasticity cosmetics;
3. Can also be used as a food additive.
About Ginsenoside Rg1
Ginsenoside Rg1 is one of the major active components of ginseng. Ginsenoside Rg1 displays promising effects by reducing cerebral Aβ levels. Ginsenoside Rg1 also reduces NF-κB nuclear translocation.
Ginsenoside RG1 can enhance learning&memory. Meanwhile,it can anti-aging, anti-fatigue, improve immunity, repair sexual function and other effects. In addition, Ginsenoside RG1 has a broad application prospect that about in high-end health care, prevention and treatment of senile dementia and other neurodegenerative diseases.
For more information of product, please send the email to [email protected]


After send online enquiry, we will reply you as soon as possible, if not get any response on time please contact us by Tel or Email.This form is unable to receive your inquiry from aol, hotmail, gmail or others but company email address.
E-MAIL:[email protected]
TEL: +86 592 536 5868
WHATSAPP: +86 189 6516 2351