Ferulic Acid
Ferulic Acid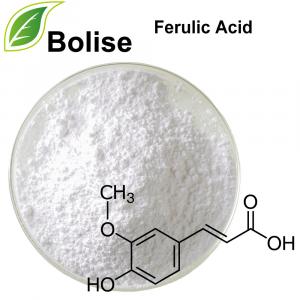 [ Plant source ] Ferula assafoetida L.;Lycopodium selago L.;Allium cepa L.
[ CAS NO. ]  537-98-4
[ Molecular Formula ]  C8H15NO2
[ Molecular Weight ] 157.21
[ Appearance ] White Fine Powder
About Ferulic Acid
Ferulic acid was originally found in the seeds and leaves of plants. It is a phenolic acid widely present in plants. It combines with polysaccharides and proteins in the cell wall to form the skeleton of the cell wall, and rarely exists in free form. It has a high content in Chinese medicinal materials such as Asafoetida, Cohosh, Angelica, and Jujube seed, and is one of the effective ingredients of these Chinese medicines. Ferulic acid is present in edible plants such as onions and yellow chrysanthemums. The content of ferulic acid in food materials such as husks, coffee, wheat bran, rice bran, bagasse and beet meal is also high. Ferulic acid has good pharmacological effects and biological activities, so it has high application value in medicine, health care products, and cosmetic raw materials.
For more information of product, please send the email to [email protected]


After send online enquiry, we will reply you as soon as possible, if not get any response on time please contact us by Tel or Email.This form is unable to receive your inquiry from aol, hotmail, gmail or others but company email address.
E-MAIL:[email protected]
TEL: +86 592 536 5868
WHATSAPP: +86 189 6516 2351