Eucalyptus Leaf Extract
Eucalyptus Leaf Extract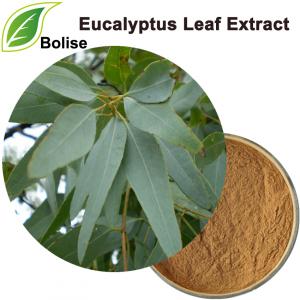 [ Latin name ] Eucalyptus Globulus Labill.
[ Part used ] leaf
[ Appearance ] Brown powder
[ Test Method ]HPLC&TLC
[ Application ]
1.Pharmaceutical ingredient 
2.Nutritional supplement
3.Dietary supplement
4.Cosmetics
5.Food additive
About Eucalyptus Leaf Extract
Eucalyptus Leaf Extract is used for extract. Eucalyptus Extract is used for Stimulant, antiseptic, aromatic. and as a stimulant and antiseptic gargle.It impairs sensibility. It increases cardiac action.Its antiseptic ingredient offer some antimalarial action.and used as a urethral injection,tuberculosis and other microbic diseases of the lungs and bronchitis.Clearing nasal passages of congestion and mucus, thus relieving cold, sinusitis, influenza, croup, emphysema, chronic and acute bronchitis, asthma and dry coughs.  It is also a superior antibacterial, antifungal, antiviral and antiseptic that improves skin problems and combats staph and strep infection, as well as an anti-inflammatory that relieves muscular pain and soothes painful arthritic joints when used as a tropical analgesic.
For more information of product, please send the email to sales@boliseco.com


After send online enquiry, we will reply you as soon as possible, if not get any response on time please contact us by Tel or Email.This form is unable to receive your inquiry from aol, hotmail, gmail or others but company email address.
E-MAIL:sales@boliseco.com
TEL: +86 592 536 5868
WHATSAPP: +86 189 6516 2351