Dunaliella Salina Extract (Beta-carotene)
Dunaliella Salina Extract (Beta-carotene)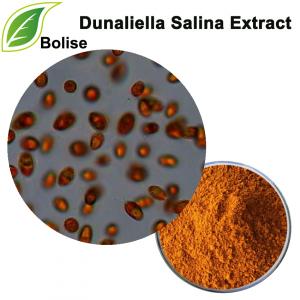 [ Latin Name ] Dunaliella salina L.
[ Appearance ] Off orange powder
[ Extract Source ] herb
[ Active Ingredient ] Beta Carotene 3%, 5%, 8% by HPLC
[ Test Method ] HPLC
[ Applications ]
Foods, Health-care product, Pharmaceutical, Cosmetics
[ Function of Dunaliella Salina Extract ]
1. Improve physical performance and strength in the elderly.
2. Prevente sunburn in people who are sun sensitive.
3. Keep a form of arthritis called osteoarthritis from getting worse.
4. Prevente bronchitis and difficulty breathing in smokers.
5. Reduce the risk of ovarian cancer in women after menopause.
6. Reduce the risk of pregnancy-related death, night blindness, and diarrhea and fever after delivery in underfed women.
7. Prevente asthma attacks triggered by exercise.
8. Treat a tongue disease called oral leukoplakia.
About Dunaliella Salina Extract
Dunaliella Salina Extract is a type of halophile green micro-algae especially found in sea salt fields. Known for its antioxidant activity because of its ability to create large amount of carotenoids, it is used in cosmetics and dietary supplements. Few organisms can survive 
like D. salina does in such highly saline conditions as salt evaporation ponds.To survive, these organisms have high concentrations of β-carotene to protect against the intense light, and high concentrations of glycerol to provide protection against osmotic pressure. This offers an opportunity for commercial biological production of these substances.
Dunaliella Salina Extract is a dietary supplement rich in bata-carotene and vitamin folic acid, which supports and protects skin cell metabolism. Dunaliella salina alga and sumptuous carrot core oil provides your body with a natural composition of valuable and essential carotenoid and vitamin E. Together with folic acid, they stabilize skin metabolism. Also helps bring out a tanned look. 
For more information of product, please send the email to sales@boliseco.com


After send online enquiry, we will reply you as soon as possible, if not get any response on time please contact us by Tel or Email.This form is unable to receive your inquiry from aol, hotmail, gmail or others but company email address.
E-MAIL:sales@boliseco.com
TEL: +86 592 536 5868
WHATSAPP: +86 189 6516 2351