Coriander Extract
Coriander Extract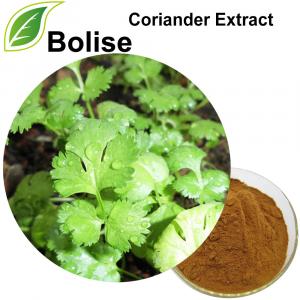 [ Other name ] Coriandrum Sativum Extract; Cilantro Extract
[ Latin Name ] Coriandrum sativum
[ Appearance ] Brown fine powder
[ Specification ] 5:1 10:1 20:1
About Coriander Extract
Coriander Extract is rich in nutrition and contains vitamin C, carotene, vitamin B1, B2 and so on. It also contains rich minerals, such as calcium, iron, phosphorus, magnesium and so on. Its volatile oil contains mannyl alcohol, ananaldehyde, nonaldehyde and linalool, which can be appetizer and refresh the spleen. 
Coriander Extract contains potassium malate and so on. The amount of vitamin C contained in Coriander Extract is much higher than that of ordinary vegetables. The average human consumption of 7~10 grams of fragrant vegetable leaves can meet the human demand for vitamin C; caraway carotenoids are more than 10 times higher than tomatoes, beans, cucumbers and so on.
For more information of product, please send the email to [email protected]


After send online enquiry, we will reply you as soon as possible, if not get any response on time please contact us by Tel or Email.This form is unable to receive your inquiry from aol, hotmail, gmail or others but company email address.
E-MAIL:[email protected]
TEL: +86 592 536 5868
WHATSAPP: +86 189 6516 2351