Cordyceps Militaris Extract
Cordyceps Militaris Extract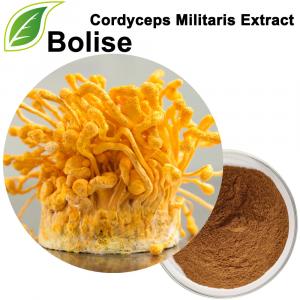 [ Latin Name ] Cordyceps militaris 
[ Part of Used ] Fruiting body
[ Active ingredients ]  Polysaccharides cordycepin; Cordycepin
[ Specification ]  10~50%Polysaccharides cordycepin 1.0,2.0.5.0,10%
[ Appearance ] Brown yellow fine powder
[ Application ]
* Healthy Products
* Nutrition Supplements
About Cordyceps Militaris Extract
Cordyceps militaris , a parasitic fungus, is a valuable source of many phytonutrients (plant chemicals) and is thought to provide an array of therapeutic benefits and support good health. 
Cordyceps militaris extract is extracted from the mycelium of cordyceps militaris. Main active ingredients of the extract are Cordycepin and Polysaccharides.
Cordyceps militaris extract is used in cosmetics, which has anti-oxidation, anti-aging, skin immune regulation, treatment of inflammatory skin, repairing skin infections and improving skin
Cordyceps militaris extract is applied in food field, used as as functional food additive.added into many kinds of product;
Cordyceps militaris extract is used in health care products, which has the functions of invigorating the spleen and qi, protecting the lungs and liver, and improving the body's immunity.
For more information of product, please send the email to [email protected]


After send online enquiry, we will reply you as soon as possible, if not get any response on time please contact us by Tel or Email.This form is unable to receive your inquiry from aol, hotmail, gmail or others but company email address.
E-MAIL:[email protected]
TEL: +86 592 536 5868
WHATSAPP: +86 189 6516 2351