Corallina Officinalis Extract
Corallina Officinalis Extract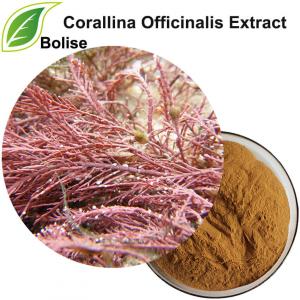 [ Cas No. ] 89997-92-2
[ Appearance ]  Brown Powder
[ Function(s) ]  Skin Conditioning
About Corallina Officinalis Extract
Corallina Officinalis Extract is an extract of the alga, Corallina officinalis.
Corallina Officinalis Extract contains polysaccharide, amino acids, lipid, minerals, vitamins, chlorophyll, carotenoids, phycobilins, and other trace elements in it. Also, it carries a marine enzyme which has three elements, epidermal growth factor, and trace elements. 
Corallina Officinalis Extract offering ingredients Suitable dry skin, pigmented skin, sensitive skin, tolerant skin, non-pigmented skin, oily skin, wrinkled skin, these 8 types of skin.
Corallina Officinalis Extract is used in a lot of products, especially cosmetic, facial and skin-care products.
For more information of product, please send the email to [email protected]


After send online enquiry, we will reply you as soon as possible, if not get any response on time please contact us by Tel or Email.This form is unable to receive your inquiry from aol, hotmail, gmail or others but company email address.
E-MAIL:[email protected]
TEL: +86 592 536 5868
WHATSAPP: +86 189 6516 2351