Chlamydomonas Reinhardtii Extract
Chlamydomonas Reinhardtii Extract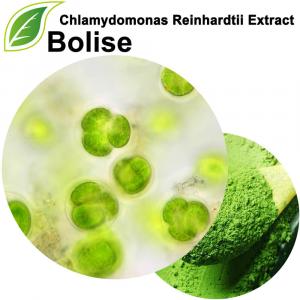 [ Other Name ]  Chlamydomonas Reinhardtii Powder
[ Appearance ]  Green Fine Powder
[ Specification ]  Polysaccharide:25%
[ Main ingredient ] Protein, Dietary Fiber, Crude Polysaccharide
[ Effect ]
1. Improve immunity, enhance resistance;
2. Help to maintain normal intestinal function;
[ Application ]
Food raw materials or health products
About Chlamydomonas Reinhardtii Extract
Chlamydomonas Reinhardtii Extract belongs to the Chlamydomonas family and the genus Chlamydomonas. It is the "mother of plants" of algae and is rich in protein, vitamin A and other nutrients. It is made by algal seed culture, heterotrophic expansion culture in fermenter, drying and other processes. The main nutrients include proteins, carbohydrates, fats, amino acids, vitamins and minerals. Chlamydomonas Reinhardtii Extract is classified as "Generally Recognized as Safe" in the United States as a source of dietary protein.
Chlamydomonas Reinhardtii Extract has high nutrient content and obvious efficacy. It has no hard cell wall and is easily absorbed by humans.
For more information of product, please send the email to [email protected]


After send online enquiry, we will reply you as soon as possible, if not get any response on time please contact us by Tel or Email.This form is unable to receive your inquiry from aol, hotmail, gmail or others but company email address.
E-MAIL:[email protected]
TEL: +86 592 536 5868
WHATSAPP: +86 189 6516 2351