Blue Lotus Extract
Blue Lotus Extract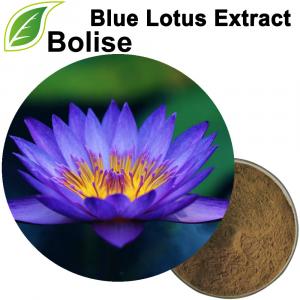 [ Latin Name ] Nymphaea stellata Willd.
[ Specification ] 10:1
[ Part Used ] flower
[ Appearance ] Brown yellow fine powder
[ Function ] 
1. Regulate physical and mental health
2. Protect spleen and stomach
3. Treat diarrhea
4. Improve sleep quality
About Blue Lotus Extract
Blue Lotus Extract  is said to have psychoactive alkaloid apomorphine and nuciferan as its components. It can be used to treat gastrointestinal diseases. It can also be used in diarrhea and dyspepsia. The reason the plant became popular in Egypt is its primary effects of euphoria and alleviation of depression. Many people also experience a mild stimulant-like effect that encourages socialization.
Blue Lotus Extract  also helps in erectile dysfunction, especially caused due to depression. The flower can be used to promote somnolence, anti-anxiety agent and for relieving stress. The flower is used in perfumes. Aromatherapy also recognizes the effectiveness of its oil. The blue lotus flower is said to have ginseng that acts as an anesthetic agent.
Blue lotus extract can regulate our physical and mental health, has the effect of nourishing the stomach and clearing the heart, has a very good protective effect on the spleen and stomach, can also play the role of antidiarrhea, improve insomnia, regulate sleep quality, beauty and other effects.
Blue Lotus Extract is commonly used in cosmetics and health products to fight bacteria, inflammation, reduce freckles and enhance immunity.
For more information of product, please send the email to [email protected]


After send online enquiry, we will reply you as soon as possible, if not get any response on time please contact us by Tel or Email.This form is unable to receive your inquiry from aol, hotmail, gmail or others but company email address.
E-MAIL:[email protected]
TEL: +86 592 536 5868
WHATSAPP: +86 189 6516 2351