Black Soybean Hull Extract Powder
Black Soybean Hull Extract Powder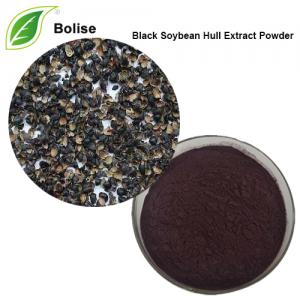 [ Other name ]  Black Bean Peel Extract
[ Appearance ]  Deep Red Fine Powder
[ Used Part ]  hull
[ Extract Solvent ]  Ethanol & Water
[ Test Method ] UV
[ Anthocyandins ]  ≥5.00%
[ Active Ingredients ]  Anthocyanin
COA of Black Soybean Hull Extract Powder
(1) Physical Charactristics:
Partical Size : Through 80 mesh 
Loss on Drying: 3.16%
Ash Content:  3.19%
Bulk Density: 55g/100ml
Solvent Residue: Eur.Pharm
Pesticide Residue: Negative
(2) Heavy metals
Total Heavy Metals: ≤10ppm
As: ≤2ppm
Pb: ≤2ppm
(3) Microbiological Tests
Total Plate Count: ≤1000cfu/g
Total Yeast & Mold: ≤100cfu/g
E.Coli.: Negative
Salmonelia: Negative
Staphylococcus :Negative  
Function of Black Soybean Hull Extract Powder     
1. Used to prevent osteoporosis;
2. Decrease cholesterol and reducing the risk of cardiovascular diseases;
4. Estrogenic effect and reliefing symptom of climacteric syndrome; 
3. Preventing cancer, especially prostate cancer and breast cancer and resisting tumor.
About Black Soybean Hull Extract Powder 
Black Soybean Hull Extract  is soluble in water and ethanol. It contains lots of Anthocyanin which is efficient antioxidant.Black Soybean Hull Extract  can be used as health food additive or natural color. The extract can be used for preparing drugs or food containing antioxidants, or used for improving metabolic syndrome or eyesight.
[ Storage ]  Store in a cool and dry place, keep away from strong light and heat.
[ Shelf Life ]  Two years if sealed and store away from direct sun light.
For more information of product, please send the email to bkherb@globals-globals.com


After send online enquiry, we will reply you as soon as possible, if not get any response on time please contact us by Tel or Email.This form is unable to receive your inquiry from aol, hotmail, gmail or others but company email address.
E-MAIL:bkherb@globals-globals.com
TEL: +86 592 536 5868
WHATSAPP: +86 189 6516 2351