Bidens Tripartita Extract
Bidens Tripartita Extract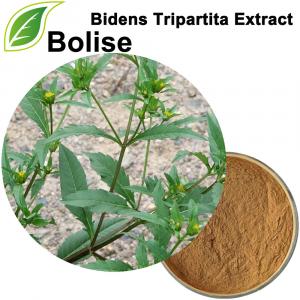 [ Botanical Name ] Bidens tripartita L.
[ Part used ] Whole herb
[ Specification ] 10:1 20:1
[ Test Method ] TLC
[ Appearance ] Brown Yellow Fine Powder
[ Function ]
1. Men's sexual enhancer series
2. Women's health series
3. Anti-stress and sleeping improvement series
4. Weight loss series
About Bidens Tripartita Extract
Bidens tripartita is a common and widespread species of plants in the sunflower family, commonly known asThree-lobe Beggarticks, Three-part Beggarticks, Leafy-bracted Beggarticks or Trifid Bur-marigold. It is native to much of Eurasia, North Africa, and North America, with naturalized populations in Australia and on somePacific Islands.
For more information of product, please send the email to [email protected]


After send online enquiry, we will reply you as soon as possible, if not get any response on time please contact us by Tel or Email.This form is unable to receive your inquiry from aol, hotmail, gmail or others but company email address.
E-MAIL:[email protected]
TEL: +86 592 536 5868
WHATSAPP: +86 189 6516 2351