Ascophyllum Nodosum Extract
Ascophyllum Nodosum Extract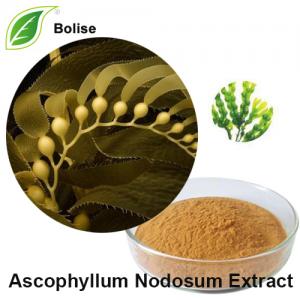 [ Botanical Name ] Ascophyllum Nodosum
[ Appearance ]  Brown Fine powder
[ Used Part ] Whole plant
[ Test Method ] HPLC UV
[ Specification ] 5:1; 10:1
[ Active Ingredients ] Algin, Fucoidan,Laminaranne
[ Function ]
1. Restrain the diffuse of tumor cells;
2. Antiviral;
3. Antibacterial;
4. Eliminate free radicals;
5. Anti-oxidation;
[ Application ]
1. Applied in foods field.
2. Applied in cosmetics field.
3. Applied in health products field.
COA of Ascophyllum Nodosum Extract
Loss On Drying:   ≤5.0%
Ash:    ≤5.0%
Sieve Analysis:   98% pass 80 mesh
Total plate count:   ≤1000CFU/g
Yeast & mold:   ≤100CFU/g
E.coli:   Negative
Salmonella:  Negative
About Ascophyllum Nodosum Extract
Ascophyllum nodosum is a large, common brown alga (Phaeophyceae) in the family Fucaceae, being the only species in the genusAscophyllum. It is seaweed of the northern Atlantic Ocean, also known as rockweed, Norwegian kelp, knotted kelp, knotted wrackor egg wrack.
Ascophyllum Nodosum Extract contains various nutrients and proteins such as nitrogen, phosphorus, potassium and zinc, and has the functions of softening, nourishing and moisturizing the skin.Ascophyllum Nodosum Extract can also be used as a skin anti-wrinkle anti-aging agent, a skin moisturizer and a deodorant.
In the United States, ascophyllum nodosum extract is used for the treatment of obesity, which may be related to the inhibition of lipase activity by ascophyllum nodosum extract, which can be used as a slimming agent.
[ Storage ] Stored in dry and cool place, keep away from strong light and heat.
[ Shelf Life ] Two years when stored properly.
For more information of product, please send the email to bkherb@globals-globals.com


After send online enquiry, we will reply you as soon as possible, if not get any response on time please contact us by Tel or Email.This form is unable to receive your inquiry from aol, hotmail, gmail or others but company email address.
E-MAIL:bkherb@globals-globals.com
TEL: +86 592 536 5868
WHATSAPP: +86 189 6516 2351