Artemisia Anomala Extract
Artemisia Anomala Extract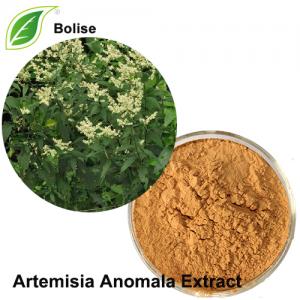 [ Botanical Name ] Artemisia anomala S. Moore
[ Appearance ] Brown powder
[ Used Part ] Root 
[ Test Method ] UV TLC
[ Specification ]10:1
[ Active Ingredients ]Flavonoid
Function of Artemisia Anomala Extract
1. Anti-inflammatory;
2, Anti-thrombotic, anti-platelet aggregation;
3. Enhance the ability to resist hypoxia;
4, Antibacterial;
5, Anti-fertility;
6, Anti-oxidation;
7. Promote wound healing. 
8. Potential agent for skin whitening
About Artemisia Anomala Extract
Artemisia Anomala Extract is a kind of Chinese medicine. Distributed in Henan, Jiangsu, Zhejiang, Anhui, Jiangxi, Fujian, Taiwan, Hubei, Hunan, Guangdong, Guangxi, Sichuan, Guizhou. It has the effect of clearing away heat and dampness, promoting blood circulation and relieving pain. Commonly used for heat stroke, headache, enteritis, dysentery, trans-abdominal pain, rheumatic pain, bruises, external treatment of traumatic bleeding, and mastitis. 
In this study, to develop a new whitening agent, we have investigated the antioxidant activity and the inhibitory effect of Artemisia anomala extract on tyrosinase activity and melanogenesis in the B16/F1 melanoma cells. The main active part of alcohol extract of Artemisia anomala S. Moore on anti focal cerebral ischemia is n-butanol extract(part Ⅲ) after preliminary screening and its mechanism may be related with its antioxidant effects.So Artemisia Anomala Extract might be used to be a potential agent for skin whitening.
Artemisia Anomala Extract has been widely used in China to treat inflammatory diseases for hundreds of years. However, mechanisms associated with its anti-inflammatory effect are not clear. 
For more information of product, please send the email to bkherb@globals-globals.com


After send online enquiry, we will reply you as soon as possible, if not get any response on time please contact us by Tel or Email.This form is unable to receive your inquiry from aol, hotmail, gmail or others but company email address.
E-MAIL:bkherb@globals-globals.com
TEL: +86 592 536 5868
WHATSAPP: +86 189 6516 2351