Acorus Calamus Root Extract
Acorus Calamus Root Extract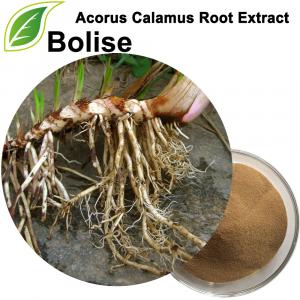 [ Latin name ] Acorus calamus Linn. 
[ Specification ] 10:1
[ Part Used ] Tuber
[ Appearance ] Brown yellow fine powder
[ Test Method ] UV
[ Medicine Function ] 
1. Inhibits tumor growth and improves disease resistance.
2. Powerful anti-oxidant which extends life, and improves the memory.
3. Help normalize blood pressure and balance blood sugar.
4. Supports liver, eyes, kidneys and strengthens muscles and bones.
5. Relieves insomnia, headaches and alleviates anxiety and stress.
[ Cosmetic Function ] 
1. Can selectively eliminate oxygen-containing free radicals, and can be used in anti-oxidant, anti-aging, whitening and anti-inflammatory cosmetics in combination with other antioxidants.
2. The increase of cathepsin D activity by Acorus Calamus Root Extract showed the promotion of the metabolic function of the dermis.
3. Activation of luciferase activity by calamus extract showed that it is anti-inflammatory.
4. Data on the promotion of dermal papilla cell proliferation by Acorus Calamus Root Extract show that it can be used in hair growth products.
5. Acorus Calamus Root Extract is an excellent spice used in a variety of incense, essential oils, and cosmetic fragrances.
For more information of product, please send the email to [email protected]


After send online enquiry, we will reply you as soon as possible, if not get any response on time please contact us by Tel or Email.This form is unable to receive your inquiry from aol, hotmail, gmail or others but company email address.
E-MAIL:[email protected]
TEL: +86 592 536 5868
WHATSAPP: +86 189 6516 2351