Acer Truncatum Extract
Acer Truncatum Extract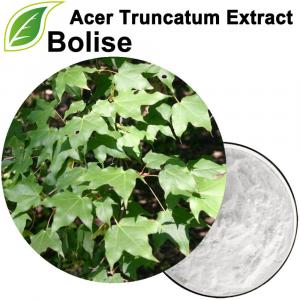 [ Latin Name ] Acer truncatum Bunge 
[ Specification ]  Nervonic Acid 90% 
[ Active Ingredient ] Nervonic Acid
[ Appearance ]  White Powder
[ Application ]
1. It can be used for edible oil, fat and emulsified fat products, as well as solid drinks, dairy products, sweets, convenient food and health food. 
2. It can be used as a food additive for brain health, eating certain nervonic acids during pregnancy or infancy can greatly accelerate the development of the baby's brain. 
3. It is not only suitable for healthy people's daily brain nutrition and health care, especially for pregnant women, infants, the elderly, mental workers, brain diseases and brain damage, optic neuropathy, and eyesight protection people.
About Acer Truncatum Extract
Acer Truncatum Extract can prevent nerve fiber atrophy, promote brain development, delay aging, enhance human immunity and digestive function, and can significantly reduce excessive blood lipid concentration in the blood,relieve the incidence of some diseases such as hypertension, cardiovascular and cerebrovascular diseases and blood circulation disorders caused by hyperlipidemia.
For more information of product, please send the email to [email protected]


After send online enquiry, we will reply you as soon as possible, if not get any response on time please contact us by Tel or Email.This form is unable to receive your inquiry from aol, hotmail, gmail or others but company email address.
E-MAIL:[email protected]
TEL: +86 592 536 5868
WHATSAPP: +86 189 6516 2351