Sumer
Sumer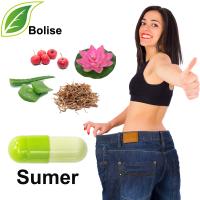 [ Dosage ]       240mg before the breakfast, 280mg is recommended if there is no significant change on weight reduction after one week.
[ Mechanism ]   Quick absorption of the products, and distribution of the whole body, increase fullness by restraining the intake of the norepinephrine and serotonin, discharges by urine and dejection.
[ Usage ]          It will show evident effect after taking orally one week; the weight will decrease three to five kilograms within the first month, and the weight will decrease three kilograms in the second month, and it will keep this number later. 
Ingredients:Hawthorn, Lotus, Aloe, Astragalus membranaceus
[ Valid Date ]     2 to 3 years
[ Supply ] 
  1 Raw Material supply: raw materials supply (without minimum order) 
  2 Capsule Filling supply: raw materials supply 
  3 Branded products supply: raw materials supply+ capsule filling +outer packing design and manufacturing (minimum order 50,000 capsules)
[ Hawthorn ]
Hawthorn is an extremely valuable medicinal herb.Mordern medicinal studies tell that Hawthorn contains citric acid,malic acid, ascorbic acid, protein andcarbohydrate. It is used mainly for treating disorders of the heart and circulation system, especially angina. Western herbalists consider it a 'food for the heart',it increases the blood flow to the heart muscles and restores normal heart beat. The fruit is antispasmodic, cardiac, diuretic, sedative, tonic and vasodilator. Both the fruits and flowers of hawthorns are well-known in herbal folk medicine as a heart tonic and modern research has borne out this use. The fruits and flowers have a hypertensive effect as well as acting as a direct and mild heart tonic. They are especially indicated in the treatment of weak heart combined with high blood pressure. the organic acid in hawthorn could promote the peristalsis of stomach, have positive effect for spleen and weight reducing, could assist secondary obesity. 
[ Lotus ]
Bitter taste, neutral in nature, it could clear heart and resolve summer heat, stop bleeding, traditionally in Chinese history it applicants in summer heat syndrome with headache, fever, dizziness, stuffiness in the chest, and thirst; diarrhea due to summer heat or spleen deficiency; bleeding due to heat. Also traditionally, Chinese normally take lotus leaf as perfect medicine for weight reducing, because the root and the leaf of lotus help discharge of urine,and according to the medical records in Ming Dynasty "Lotus could make you sliming" , it is natural and free of side effect, famous for its quick effect. 
[ Aloe ]
Grow Chiefly in African, having rosettes of succulent, often spiny-margined leaves and long stalks bearing yellow, orange, or red tubular flowers. The active gene in Aloe could promote the burning of the body fat, activate the fat-releasing enzyme in the body,accelerate the fat disposition, restrain the intestines of fat absorption in the meal; the emodin in aloe could increase the moisture in the large intestine, intenerate it; at the same time, it stimulant rectum and S shaped colon, cause peristalsis and ease defecation, prevent secondary obesity. 
[ Astragalus root ]
It was discovered to have the effect of helping losing weight long time ago. It is for the treatment of adiposity caused by deficiency of vital energy. And clinical observation also has provedthat astragalus root is effective to lose weight.
[ Astragalus membranaceus ]  
Astragalus has been used in traditional Chinese medicine for thousands of years to promote the discharge of urine, lower blood pressure, and increase endurance. Clinically, it is used primarily for general digestive disorders such as diarrhea, gas, and bloating, as well as chronic phlegm production. This herb is also used for its immune enhancing properties, especially for the prevention and treatment of the common cold and chronic hepatitis. And it has a long history for weight loss.
For more information of product, please send the email to sales@boliseco.com


After send online enquiry, we will reply you as soon as possible, if not get any response on time please contact us by Tel or Email.This form is unable to receive your inquiry from aol, hotmail, gmail or others but company email address.
E-MAIL:sales@boliseco.com
TEL: +86 592 536 5868
WHATSAPP: +86 189 6516 2351