3-epi-Androsterone
3-epi-Androsterone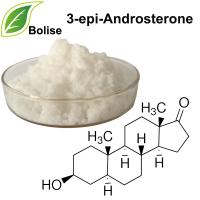 3-beta-Hydroxy-5-alpha-androstan-17-one 
CAS NO.:481-29-8
Molecular Formula:C19H30O2
About 3-epi-Androsterone :
3-epi-Androsterone  is a steroid hormone with weak androgenic activity. It is a natural metabolite of dehydroepiandrosterone via the 5-alpha reductase enzyme. It was first isolated in 1931, by Adolf Friedrich Johann Butenandt and Kurt Tscherning. They distilled over 17000 litres of male urine, from which they got 50 milligrams of crystalline androsterone (most likely mixed isomers), which was sufficient to find that the chemical formula was very similar to estrone.
For more information of product, please send the email to sales@boliseco.com


After send online enquiry, we will reply you as soon as possible, if not get any response on time please contact us by Tel or Email.This form is unable to receive your inquiry from aol, hotmail, gmail or others but company email address.
E-MAIL:sales@boliseco.com
TEL: +86 592 536 5868
WHATSAPP: +86 189 6516 2351