Papain extract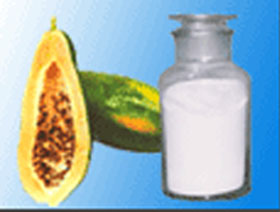 [ About Papain ]
Papain is a natural enzyme, a kind of endopeptidese containing hydrosulfide group(-SH), extracted from the milky juice of the unripe papaya by biotechnology. It has strong ability of hydrolyzing protein and can be used for improving the nutritional value or function of the plants and the animals protein.
[Technics]
The strict concentration limit of microbe and heavy metal by using the biotechnology and the membrane separation technique,can achieve the pharma and food grade. 
[ Quality ]
It has been solved by pangbo that there is high efficient separation on papain with the technology of ultrafiltration. In the normal temperature, extracting papain,the rate of recycle can be more than 90%. The higher enzyme activity is up to 1750TU/mg.
[ Appearance ]    Powder or Liquid
[Activity]       60TU/mg-1750TU/mg or 60TU/mg-1750TU/mg 
[Range of Usage ]
Apply on animal and plant proteolysis,meat flavoring ,marine product processing, biscuit, baking and other health food processing, pharmaceutical in diminish inflammation and digestant, feed industry. 
If you want to learn more about Papain information, welcome to contact us!