Sunset Yellow Food Grade
Sunset Yellow Food Grade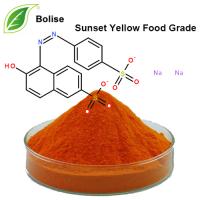 [ Synonyms ] C.I. Food  Yellow #3;  FD & C Yellow # 6;Sunset Yellow Color
[ Chemical Family (class) ]  Mono Azo dye
[ Chemical Name ]  Di sodium salt of 1-(4-sulphophenylazo)-2- Naphthol-6- sulfonic acid.
[ CAS No. ] 2783-94-0
[ Molecular Formula ]  C16H10N2O7S2Na2
[ Molecular Weight ] 452.37
[ Appearance ]  Orange red powder
[ Assay ] ≥85.0%
COA of Sunset Yellow Food Grade
Water insoluble matter: <0.1%
Ether extract: <0.1%
Unsulfonated Primary aromatic amines: <0.01%
Subsidiary dyes:  3.4%
Total organic compound other than coloring matters:  0.29%
1-(Phenylazo)-2-naphthale nol(SudanI) (mg/kg):  0.31%
Heavy metals as pb(mg/kg.):  22
Arsenic (mg/kg.): 1.7
Lead (mg/kg.):  6.4
Mercury(mg/kg.): <1
Cadmium( mg/kg.): <1
About Sunset Yellow Food Grade
Sunset yellow has strong light resistance and heat resistance (205 ℃),it is easy to absorb moisture.It is soluble in water, 0.1% aqueous solution is orange yellow; Soluble in glycerol, propylene glycol, slightly soluble in ethanol, insoluble in fats. Its resistance and stability are strong in the citric acid, tartaric acid. It is orange brown when encountering alkali and fade when reducing. Its resistance is good. The wavelength of maximum absorption is 482 nm + 2 nm. Sunset yellow's shading performance is similar to lemon yellow.
Sunset Yellow can be used for fruit drinks (liquid, solid), fruit juice drinks, soda, make-up on the preparation of wine, candy, pastry, red and green silk, canned, condensed juice, green plum, prawn.
Sunset Yellow Food Grade is used for coloring food, pharmaceuticals, and cosmetics, and is also a raw material for manufacturing aluminum salt lake.
[Storage]  Keep in cool and dry place, protect from light and hot.
For more information of product, please send the email to bkherb@globals-globals.com


After send online enquiry, we will reply you as soon as possible, if not get any response on time please contact us by Tel or Email.This form is unable to receive your inquiry from aol, hotmail, gmail or others but company email address.
E-MAIL:bkherb@globals-globals.com
TEL: +86 592 536 5868
WHATSAPP: +86 189 6516 2351