Sweetberry Honeysuckle Red
Sweetberry Honeysuckle Red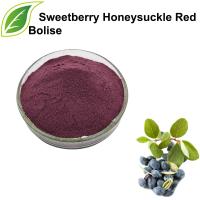 Active ingredient: anthocyanin
Content: [25%]
Detection method: UV
Packaging : cardboard drums, with double aseptic food poly bags inside. Or by cartons, with vacual aseptic food poly bags inside, 20kgs per carton with 8 bags inside,2.5kg per bag.
Product description:     
Cyanidin-3-glucoside,cyanidin-3,5-doubleglucoside,cyanidin-3- rutinose are the main parts of the sweetberry honeysuckie red.We can see purple-red powder with our naked eyes and smell the special fruity.It has sweet and sour taste.It is easily water-soluble and enthanol-soluble. It is absolute a natural pigment abstracted from the boiled size of snowberry udershrub Lonicera caerulea var.emphyllocalyx by modern biotechnology .Widely used in effervescent wine,ice cream, fruit juice beverage,candy,cakes as natural coloring.
This product has been exported to EU, Japan, USA, Asia etc. The physical level and microbiological level can meet the export standards well.For avoiding fakes,this product already has normal enterprise NO: Q/KLE83-2005.
For more information of product, please send the email to bkherb@globals-globals.com


After send online enquiry, we will reply you as soon as possible, if not get any response on time please contact us by Tel or Email.This form is unable to receive your inquiry from aol, hotmail, gmail or others but company email address.
E-MAIL:bkherb@globals-globals.com
TEL: +86 592 536 5868
WHATSAPP: +86 189 6516 2351