Red Cabbage Color
Red Cabbage Color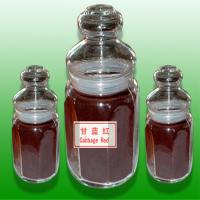 Red Cabbage Color, a pure natural and water soluble food color produced by our company, is extracted from edible red cabbage of Cruiferae family planted locally. The process is checking, washing, slicing, extracting, filtrating, purifying, concentrating, sterilizing Red Cabbage Color liquid spraying Red Cabbage Color powder.The main coloring ingredient is anthacyanins which contain cyanidin.
[ Appearance ]
Red Cabbage powder is deep red, liquid is brown purple. It can be dissolved in water & alcohol, acetic acid, propylene glycol solution easily, but not in oil. The color of water solution changes when PH is different. When PH is below 3, the color is purple red, the color is pink red when PH is between 4~6, and the colourity is ideal stability. The solution color becomes blue & green, and is unstable when PH is above 6. The color of solution can't fade under light for a long time, and also has good resistance to high temperature in an acidic medium.
[ Quality Standard ] 
Items

Enterprise Standard

Powder

Liquid

Color v-alue E(1%、 1cm 、PH3.0、524~536nm)

20~80

20~30

Moisture                            % ≤

10.0

80.0

Ash                                   % ≤

2.0

1.0

PH

1.8~4.5

1.8~4.5

Arsenic(as As2O3) mg/kg ≤

2.0

1.0

Lead(as Pb)          mg./kg ≤

5.0

3.0

Total Plate Count           cfu/g ≤

1000

1000

Pathogenic Bacteria

Negative

Negative
[ Applications ]
  Red Cabbage can be widely used in wine, beverage, fruit sauce, candy, cake.
[ Usage Reference ]
  Beverages:0.01~0.1%,candy:0.05~0.2%,cake:0.01~0.1%.
[ Package ]
  Powder is packed with plastic container with inner plastic bags, liquid is packed with plastic container, net weight is for powder 10 or 20kg, for liquid is 25kg. Package standards are also available according to consumer's demand.
[ Storage ]
  Sealed, avoid light, store in cool and dry place.
[ Shelf Life ]
  If the storage condition attains as mentioned above, powder is 18 months from production date, liquid is 6 months. Once opened, should seal up again and use within 6 months(powder)or 1month(liquid). 
For more information of product, please send the email to [email protected]


After send online enquiry, we will reply you as soon as possible, if not get any response on time please contact us by Tel or Email.This form is unable to receive your inquiry from aol, hotmail, gmail or others but company email address.
E-MAIL:[email protected]
TEL: +86 592 536 5868
WHATSAPP: +86 189 6516 2351