Radish Red Color
Radish Red Color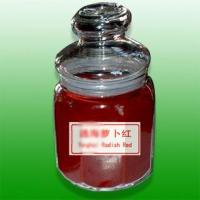 [ About Radish Red ] 
  Radish Red Color is extracted from the roots of the edible Red Radish of the Cruciferae family. The pigment mainly consists of two anthocyanins, which belongs to glucose derivatives of Pelargonidin. 
  Radish Red Color,a pure natural and water soluble food color produced by  our company is used PAPHANUS SATIOUSL FUEING(red shell and red heart radish)which have a long planting history 1ocally.The process is checking, washing,slicing, extracting, filtrating,purifying ,concentrating,spraying, drying.The main coloring ingredient is anthacyanine. 
[Properties]
Radish Red Color is a purple-red powder, which easily dissolves in water and alcohol, but not in fat solvent. When PH<7, the solution is red. The pigment's resistance to light and heat is high in an acidic medium. It is useful for coloring drinks and medicine. It is non-poisonous to the human-body, and has been formulated to a national standard (standard number GB6718-86).
[ Characteristics ]       
 The Radish Red is deep red powder,can easily dissolve not only in alcohol,but also in water.It is insoluble in Oil, and can not absorb moisture and can not form solid,The color of pigment liquid changes with different PH The color changing from orange-red to purple to aborigine to blue when PH is between l-8,It is red region when PH is in l-6,the color it ideal stability.The pigment liquid color becomes blue and is unstable when PH is above7.The pigment can not fade under light for a long time.The pigment also has good resistance to high temperature,the color can not Change with long time boiling.
[ Usage Instructions]
   Radish pigment can be widely used in candy, cake, beverage, wine, fruit milk, jam, ice-lowly, ice-cream, canned food, sausage and pill sugarcoating.
 When use Radish Red, dissolve the pigment in less alcohol or water first, then mix the solution with food materials. The usage references are as follows:
  CANDY: add 50-500mg/kg, the color is pink to purple.
   CAKE: add 10-100mg/kg, the color is pink to rose red.
  BEVERAGE: add 10-100mg/L, the color is red to pink.
  WINE: add 1,000-2,000mg/L, the color is pink.
  FRUIT: add 100-300mg/L, the color is pink.
  JELLY: add 10-100mg/kg, the color is orange red to red.
   ICE-LOOLLY AND ICE-CREAM: add 100-700mg/kg, the color is pink to purple.
  SAUSAGE: add 10-100mg/kg, the color is pink to rose red.
   PILL SUGARCOATING: add 50-500mg/kg.
[Technological Process]  Raw Material → Cut Into Slices → Immersed in water → Filtered → Concentrated in Vacuum → Subsidence in Alcohol → Filtered → Concentrated in Vacuum → Kill Bacteria → Dry → Powder 
[Usages] Applicable to food, beverages.
[ Storage] Prevent from air, light and heat, Store in cool condition. 
[ Package ]
  Round plastic barrel with inner packing:5kg,10kg15kg,30kg. We also can supply different package according to consumer' claim.
For more information of product, please send the email to [email protected]


After send online enquiry, we will reply you as soon as possible, if not get any response on time please contact us by Tel or Email.This form is unable to receive your inquiry from aol, hotmail, gmail or others but company email address.
E-MAIL:[email protected]
TEL: +86 592 536 5868
WHATSAPP: +86 189 6516 2351