Lac Dye Color
Lac Dye Color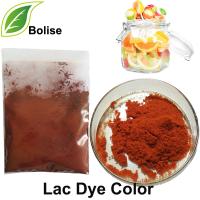 [ About Lac Dye ]
 Lac dye Color is the natural edible food pigment extracted and refined from the resinoid lac dissolved in watery sodium carbonate, the resinoid lac is excreted by the female Laccifer locca which parasitize on the Fabaceae,Maoraceae plant. Its manin ingredients are shellac acid A,B,C and E.
[ Characteristic ]       Lac dye is cardinal red powder. A little dissolved in water.,dissolved in alcohol and propylene glycol, not in cottonseed oil. Its hue varies with PH v-alue. It appears salmon pink at PH3 – PH5, red to magenta at PH5-7, purple when PH v-alue is bigger than 7. It's stable to light in acid condition. Not stable in alkalescent condition, easily fade and affected by metal ion(especially Fe2+)
[ Quality Standard ]
Items

Enterprise Standard

GB4571-1996

Appearance

Cardinal red or Magenta Powder

Cardinal red or Magenta Powder

Color v-alue E

(1%、1cm、490nm)

130~160

≧130

Loss on Drying %    Less than

10.0

10.0

Ash           %   Less than

0.8

0.8

PH

3~4

3~4

Lead        ppm   Less than

5.0

5.0

Arsenic      ppm   Less than

2.0

2.0

Heavy metal  ppm Less than

10.0

30.0

Pathogenic Bacteria

None

 
[ Application and Usage Reference ] 
  Lac dye can be widely used in juice drinks,carbonic drinks,wine, candy,jam and sauce etc. The usage reference is 0.005~.05%.
[ Package ] 
  Packed with plastic or paper container with inner plastic bags, net weight is 10kg or 20kg . Different package standards are available according to consumer's demand.
[ Storage ] 
  Sealed, avoid light, store in a cool & dry place.
[ Shelf Life ] 
  Two years from production date if the storage condition attains as mentioned above. Once opened, should seal up again and use within six months.
For more information of product, please send the email to [email protected]


After send online enquiry, we will reply you as soon as possible, if not get any response on time please contact us by Tel or Email.This form is unable to receive your inquiry from aol, hotmail, gmail or others but company email address.
E-MAIL:[email protected]
TEL: +86 592 536 5868
WHATSAPP: +86 189 6516 2351