Gardenia Black Color
Gardenia Black Color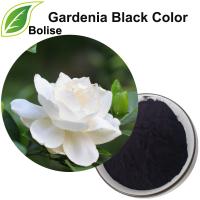 [ Appearance ] Dark Powder
[ Original ] Gardenia Black, a natural black pigment extracted from the fruit of gardenia jasminoides, refined by biological treatment and physical method.
[ About Gardenia Black ]
Gardenia Black, a natural food pigment, is got from the gardenia (Gardenia jasminoides ELLIS) fruit of madder family by biological fermentation.Black Gardenia is an atmospheric basement bar that serenades visitors with a diverse selection of beat tracks and swing classics from the '40s through to the '60s. Customers often match this theme with their choice of clobber, so feel free to throw on your best vintage look and jitterbug the night away. 
It can be used as a natural pigment for flour products, noodles, candy, cookies, drinks, wine, beverage, dairy product, fish and tinned food, cosmetics, silk cloth, cotton cloth, medicines and Chinese Herbs, etc.
It is easily soluble in water.Gardenia Black Color has a good dyeing ability to starch and protein.Gardenia Black Color also has a good stability to light, heat and microbe.
[ COA of Gardenia Black Color ]
Color Value  590nm:  ≥60
Impurity:  no
Heavy Metal:  8ppm
Arsenic:  0.11ppm
Lead:  0.14ppm
Total Plate Count: <100cfu/g
E. coli:  Negative
[ Storage ]  Keep in cool and dry place, protect from light and hot.
[ Min Order ]  1kg Valid: 60 days
[ Shelf life ] 2 years
[ Packaging Details ]
1. 1kg/bag, 2kg/bag with double plastic container inside and Aluminum foil bag outside.
2. 25kg/drum, with double plastic bag and cardboard drum outside.
Drum Size: 37.8*49cm; Volume: 0.08 m3/ Drum. NW: 25kg; GW: 28kg
3. Customized packing.
For more information of product, please send the email to sales@boliseco.com


After send online enquiry, we will reply you as soon as possible, if not get any response on time please contact us by Tel or Email.This form is unable to receive your inquiry from aol, hotmail, gmail or others but company email address.
E-MAIL:sales@boliseco.com
TEL: +86 592 536 5868
WHATSAPP: +86 189 6516 2351