Black Sesame Seed Pigment
Black Sesame Seed Pigment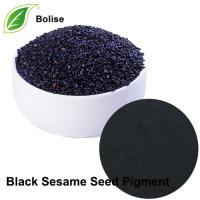 [ Active ingredient ] color scale
[ Appearance ]  Black powder 
[ Detection method ]  UV
[ Used Part ] seed 
[ Function ]
(1) Health care and tonic;
(2) To astringe lungs, relieve asthma, activate blood circulation, dissipate blood stasis, relieve pain;
(3) Usually used for lung deficiency cough, coronary heart disease, angina and hyperlipidemia. 
COA of Black Sesame Seed Color
Content: [85]
Sieve analysis:  ≥80mesh
Loss on Drying:  4.61%
Extract Solvent: alcohol   
(Cu)%:  ≤0.0001 
(As) %:  ≤0.0001
(Pb) %:   ≤0.0003     
Total Plate Count:  <1000/g
Yeast & Mold:  <100/g
E. Coil: Negative
Salmonella Salvents: Negative  
About Black Sesame Seed Pigment
Flavonones and Anthocyanin are the main parts of the black sesame seed color.We can see black glossy powder with our naked eyes.It is ethanol-soluble. It is absolute a natural pigment abstracted from Sesamum indicum by modern biotechnology.Widely used in foodstuff industry as natural coloring.
This product has been exported to EU, Japan, USA, Asia etc. The physical level and microbiological level can meet  the export standards well.For avoiding fakes,this product already has normal enterprise NO: Q/KLE47-2005.
[Storage] Store in cool & dry place; Keep away from strong and hear
[Shelf life] 18months when properly stored
[Packaging]  cardboard drums, with double aseptic food poly bags inside. Or by cartons, with vacual aseptic food poly bags inside, 20kgs per carton with 8 bags inside,2.5kg per bag.
For more information of product, please send the email to bkherb@globals-globals.com


After send online enquiry, we will reply you as soon as possible, if not get any response on time please contact us by Tel or Email.This form is unable to receive your inquiry from aol, hotmail, gmail or others but company email address.
E-MAIL:bkherb@globals-globals.com
TEL: +86 592 536 5868
WHATSAPP: +86 189 6516 2351