Vitex Agnus Castus Extract(Chaste Berry) Extract Powder
Vitex Agnus Castus Extract(Chaste Berry) Extract Powder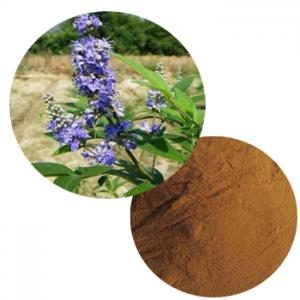 Latin Name: Vitex agnus-castus L.,Fructus Viticis
Appearance:Yellow Brown Fine Powder 
Part used: Flower
Test Method:HPLC
Main ingredients: Iridoids, flavonoids and volatile oils (Vitex).
Agnus Castus Extract(Chaste Berry) Extract Effect:
1.Menstruation
2.Miscarriage and Infertility
3.Menopause
4.Antitumor activity
About Agnus Castus Extract(Chaste Berry) Extract:
Agnus castus is an herb that has used to correct hormonal imbalances in women for centuries, sometimes called "the women's herb". 
Agnus Castus Extract is a traditional herbal remedy used to relieve the symptoms of PMS.This produced a reduction in headaches, breast tenderness, bloating and fatigue. Improvement in anxiety, mood swings and other psychological symptoms were also reported.
Agnus Castus is a natural source of progesterone that can help to balance the ratio of oestrogen to progesterone. It has been used to successfully jump start the regular menstrual cycle and can be especially useful when coming off the birth control pill.
Agnus Castus may also be helpful in menopause and cyclic mastalgia.
 
For more information of product, please send the email to bkherb@globals-globals.com


After send online enquiry, we will reply you as soon as possible, if not get any response on time please contact us by Tel or Email.This form is unable to receive your inquiry from aol, hotmail, gmail or others but company email address.
E-MAIL:bkherb@globals-globals.com
TEL: +86 592 536 5868
WHATSAPP: +86 189 6516 2351