Soybean Oligosaccharides(SBOS)
Soybean Oligosaccharides(SBOS)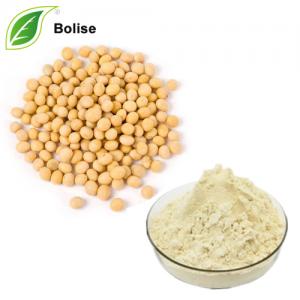 Part of used: Seed
CAS No.: 10094-58-3
Molecular Formula: C24H42O21•4H2O
Appearance:Yellow to White powder
Functions: 
1.Promote peristalsis and accelerate excretion
2.Reduce serum cholesterol
3.Cure hepatitis and cirrhosis of the liver
4.Promote nutrients generation and absorption
5.Lower blood pressure
About Soybean Oligosaccharides(SBOS):
Soybean oligosaccharide is soybean soluble carbohydrates contained in the total name, it is a - galactose glycosides, mainly composed of four sugar, raffinose and stachyose Vabascose, etc. Soybean oligosaccharide(SBOS)is one of non-digestible oligosaccharides.
Soybean Oligosaccharides(SBOS) is widely used in pharmaceutical, cosmetic, food, health food production of natural raw material.
Soybean Oligosaccharides(SBOS) were able to reduce oxidative stress and alleviate insulin resistance in pregnant women with GDM, which indicates that SBOS may play an important role in the control of GDM complications.
For more information of product, please send the email to bkherb@globals-globals.com


After send online enquiry, we will reply you as soon as possible, if not get any response on time please contact us by Tel or Email.This form is unable to receive your inquiry from aol, hotmail, gmail or others but company email address.
E-MAIL:bkherb@globals-globals.com
TEL: +86 592 536 5868
WHATSAPP: +86 189 6516 2351