Shilajit (50%+ Fulvic Acid) Extract Powder
Shilajit (50%+ Fulvic Acid) Extract Powder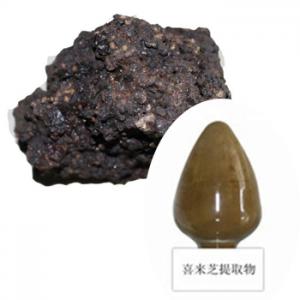 Botanical Name: Asphaltum
Common Name:Shilajit, Mineral Pitch, Asphla
Specification: Fulvic Acid 50%
Appearance:Dark brown powder
Indentification: Positive for fluvic acid
Loss on drying: NMT 5%
Heavy Metals: NMT 10 ppm
Particle Size: 100% Pass 80 Mesh
Testing Method: HPLC
Active Ingredients:Humic acid, Fulvic acid
Function:
1.Improves cardiovascular health
2.Reduces blood glucose
3.Improves sexual health
4.Encourages healthy testosterone levels
5.Reduce pain perception
6.Supports healthy skin
7.Help with chronic fatigue
About Shilajit (50%+ Fulvic Acid) Extract Powder:
Shilajit Extract has been used in folk medicine for the treatment of a variety of disorders, including syndromes involving excessive complement activation. Shilajit extract powder contain significant amounts of fulvic acid, and it has been suggested that fulvic acid is responsible for many therapeutic properties of Shilajit. Shilajit fractions exhibited dose-dependent complement-fixing activity in vitro with high potency.
Shilajit has functions of anti-aging, antioxidative, anti-inflammatory, strengthening the immune system and improving brain function and sexual ability. It helps to treat ulcers and asthma, diabetes, and rheumatism, high blood pressure, kidney diseases, urinary problems and damage healing. 
For more information of product, please send the email to bkherb@globals-globals.com


After send online enquiry, we will reply you as soon as possible, if not get any response on time please contact us by Tel or Email.This form is unable to receive your inquiry from aol, hotmail, gmail or others but company email address.
E-MAIL:bkherb@globals-globals.com
TEL: +86 592 536 5868
WHATSAPP: +86 189 6516 2351