Red Clover Blossom Extract Powder
Red Clover Blossom Extract Powder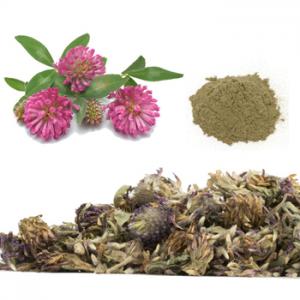 Latin Name: Trifolium pratensel L
Specification:8%~60% Isoflavones
Appearance:Fine brown powder
Test Method:HPLC
Active Ingredients: Isoflavones, Biochanin A, Formononetin, Daidzein, Genistein, Forvonontin, Sisostrin, Daidzin, Genistin
About Red Clover Blossom Extract Powder:
Red Clover Blossom Extract Powder(flower):Its active ingredient is Isoflavones, which have phytoestrogens effects. These ingredients have certain effects on preventing breast cancer, prostate cancer, colon cancer, improving osteoporosis and improving women's menopausal symptoms. Its role and its wider application in the clinic has also made it a promising natural health food.
Red Clover Blossom Extract (flower) has a phytoestrogen-like effect, especially garbanzoin has a two-way regulation of hormone levels in the human body. There is also anti-cancer antispasmodic effect. It can be used to prevent and treat premenstrual syndrome when estrogen is elevated in women, menopausal syndrome when estrogen is lowered, prostate cancer, breast cancer, whooping cough and other diseases.
Red clover blossom as an infusion are protein-rich and beneficial for women's health and general reproductive health. Red clover blossom also promotes optimal health of the respiratory system, the lymphatic system, the immune system, the blood, and the skin.Red clover blossom is the perfect herb to make infusions.
 
For more information of product, please send the email to bkherb@globals-globals.com


After send online enquiry, we will reply you as soon as possible, if not get any response on time please contact us by Tel or Email.This form is unable to receive your inquiry from aol, hotmail, gmail or others but company email address.
E-MAIL:bkherb@globals-globals.com
TEL: +86 592 536 5868
WHATSAPP: +86 189 6516 2351