Quillaja Saponaria Bark Extract(Soapbark Extract)
Quillaja Saponaria Bark Extract(Soapbark Extract)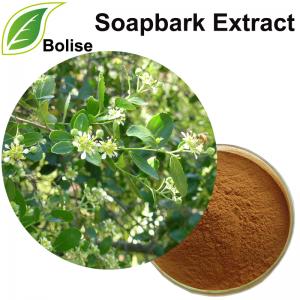 [ Botanical Name ] Quillaja saponaria Molina
[ Used Part ] Bark
[ Cas No. ]  68990-67-0
[ Specification ]  4:1 10:1 20:1
[ Appearance ] Brown Yellow Powder
[ Solubility ] soluble in water; or slightly soluble in water; or insoluble in water. Solubility depends on extraction solvent.
[ Stability ] stable.
[ Personal Care Products Function ]
Anti-dandruff agent, detergent, emulsifier, foaming agent, odor suppressant, moisturizer, skin conditioner, surface agent
[ Medicinal Function ]
1.can eliminating Expectoration;
2.can treat Chronic bronchitis;
3.can treat Diuresis.
COA of Quillaja Saponaria Bark Extract
Loss on drying: 3.23%
Ash: 3.21%
Mesh Side:  100% pass 80 mesh
Saponin: 25%
Heavy metal: ≤20ppm
As: ≤2.0ppm
Residual Pesticide: Negative
Total Plate Count:  ≤1000cfu/g
Yeast & Mold:  ≤100cfu/g
Salmonella:  Negative
E. Coli:  Negative
About Quillaja Saponaria Bark Extract(Soapbark Extract)
Quillaja Saponaria Bark Extract (Soapbark Extract) is an approved ingredient for use in Food and Beverages (GRAS) .
The bark of quillaja saponaria can be reduced to powder and employed as a substitute for soap, since it forms a lather with water, owing to the presence of a glucoside saponin, sometimes distinguished as quillaia saponin. The wood is used in cabinetry, and scents derived from the tree are used in perfumes and cosmetics.
For more information of product, please send the email to bkherb@globals-globals.com


After send online enquiry, we will reply you as soon as possible, if not get any response on time please contact us by Tel or Email.This form is unable to receive your inquiry from aol, hotmail, gmail or others but company email address.
E-MAIL:bkherb@globals-globals.com
TEL: +86 592 536 5868
WHATSAPP: +86 189 6516 2351