Pycnogenol French Maritime Pine Bark Extract
Pycnogenol French Maritime Pine Bark Extract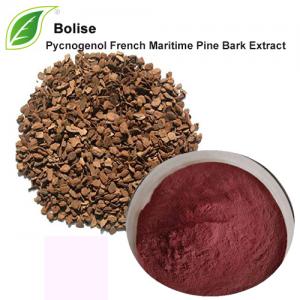 Appearance:Fuchsia powder
Active ingredient:Bioflavonoids, Organic acids, Proanthocyanidins, Taxol, Catechol, etc.
Used Part:Bark
Specification: 95UV
Function:
1.Has strong antioxidant effect
2. Natural anti-inflammatory effect
3. Increases collagen and hyaluronic acid production, increases skin elasticity and moisture and reduces wrinkles
4. Promote healthy blood flow and cardiovascular function
5. Promote healthy blood sugar levels
6. Can help relieve women's premenstrual syndrome
About Pycnogenol French Maritime Pine Bark Extract:
Pycnogenol French Maritime Pine Bark Extract is a natural antioxidant complex. It is a natural combination of proanthocyanidins, bioflavonoids and various organic acids. They complement each other and have unique and extensive natural health benefits.
Pycnogenol French Maritime Pine Bark Extract is a new nutritional supplement used for its antioxidant properties, which are believed to be effective for a wide range of healing and preventative purposes.
Pycnogenol French Maritime Pine Bark Extract is a skin conditioner, an antibacterial agent and an ultraviolet absorber. It is a powerful antioxidant, a natural anti-inflammatory substance that selectively binds to collagen and elastin, and also helps produce endothelial nitric oxide to help vasodilate.
For more information of product, please send the email to bkherb@globals-globals.com


After send online enquiry, we will reply you as soon as possible, if not get any response on time please contact us by Tel or Email.This form is unable to receive your inquiry from aol, hotmail, gmail or others but company email address.
E-MAIL:bkherb@globals-globals.com
TEL: +86 592 536 5868
WHATSAPP: +86 189 6516 2351