Polygonatum Extract
Polygonatum Extract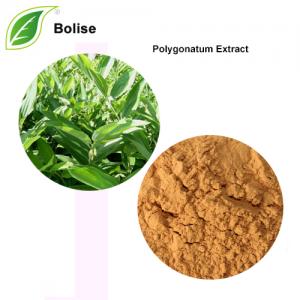 Botanical Name: Rhizoma Polygonati
Specification: Polysaccharide 10%-50%, 10:1 
Appearance:Brown yellow powder
Part used: Root & Stem
Tropism of flavor: plain; Gan; the spleen, lung, kidney
Indication: qi Yin, spleen, lungs, kidney. For the spleen and stomach weakness, tired body fatigue, dry
mouth and eat less, lung deficiency dry cough, fine blood, heat Diabetes
Function:
1. To nourish yin, promote the production of body fluids, and relieve dryness syndrome.
2. Anti-aging effect on the immune system.
3. Hypolipidemic and anti-atherosclerotic effect.
4. Inhibit urine sugar and blood sugar
Uses:
Protection of myocardial function, protect the liver, protecting nerve function, antibacterial effect.
About Polygonatum Extract:
Polygonatum extract, also known as Long title, sun grass, etc., it is extracted from the yellow stem from the root extract of plant root and stem. Polygonatum Extract is one functional ingredients in traditional chinese herbal, is used for pharmaceutical health care products, beverage and food additives.
 
For more information of product, please send the email to bkherb@globals-globals.com


After send online enquiry, we will reply you as soon as possible, if not get any response on time please contact us by Tel or Email.This form is unable to receive your inquiry from aol, hotmail, gmail or others but company email address.
E-MAIL:bkherb@globals-globals.com
TEL: +86 592 536 5868
WHATSAPP: +86 189 6516 2351