Kothala Himbutu Extract(Salacia Reticulata Extract)
Kothala Himbutu Extract(Salacia Reticulata Extract)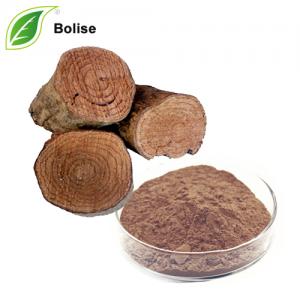 Source: The root of the five-layered dragon of the winged vine
Latin Name:Salacia Reticulata
Appearance:Brown fine powder
Active Ingredient:Triterpeneoid Saponins,Kotananol,Salacinol
Specifications:10:1 20:1 30:1
Test method:TLC
Main uses: Health products, Food industry
Main efficiencies: Soothe arthritis and rheumatism, lower the blood pressure and  glucose, sober up and
attendant liver function, anti-obesity
About Kothala Himbutu Extract(Salacia Reticulata Extract):
Kothala himbutu is a traditional Ayurvedic medicinal plant used to treat diabetes. Kothala Himbutu Extract
inhibits and transforms the absorption of sugar in the body and activates the function of the liver and
large intestine. As a traditional medicine in Sri Lanka, Ayurveda describes Kothala Himbutu as a folk
treatment for the prevention and treatment of diabetes for thousands of years.
Kothala Himbutu Extract is rich in kotatanol and salacinol, which are very effective in reducing a-
glucosidase activity. (according to research by the World Health Organization, these two components reduce
the efficacy of a-glucosidase activity and they are 5 to 20 times higher than any other plant with
hypoglycemic effect. ) After the α-glucosidase activity is reduced, the sugar digested by the human body
cannot be effectively decomposed into glucose, so that it cannot be absorbed by the small intestine and part
of the sugar directly enters the large intestine in the form of oligosaccharides, which becomes a prey of
the intestinal probiotic group, thereby increasing the number of intestinal probiotics and improves the
intestinal environment. Under such circumstances, the amount of glucose absorbed by the small intestine is
reduced, and the blood sugar level in the blood is also lowered. Thereby reducing the burden of insulin
secretion from the pancreas due to persistent high blood sugar, helping the pancreas slowly return to its
original healthy state.
For more information of product, please send the email to bkherb@globals-globals.com


After send online enquiry, we will reply you as soon as possible, if not get any response on time please contact us by Tel or Email.This form is unable to receive your inquiry from aol, hotmail, gmail or others but company email address.
E-MAIL:bkherb@globals-globals.com
TEL: +86 592 536 5868
WHATSAPP: +86 189 6516 2351