Hyperforin
Hyperforin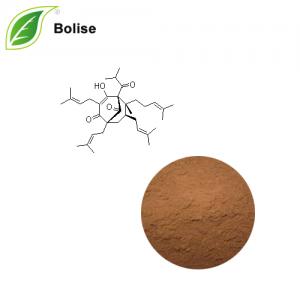 Plant Source: St. John's Wort herb
CAS NO.:11079-53-1
Chemical Name:(1R,5S,6R,7S)-4-hydroxy-6-methyl-1,3,7-tris(3-methyl-2-buten-1-yl)-5-(2-methyl-1-oxopropyl)-6-(4-methyl-3-penten-1-yl)-Bicyclo[3.3.1]non-3-ene-2,9-dione; 5-hydroxy-6R-methyl-1R,3,7S-tris(3-methyl-2-butenyl)-5S-(2-methyl-1-oxopropyl)-6R-(4-methyl-3-pentenyl)-bicyclo[3.3.1]non-3-ene-2,9-dione
Molecular Formula: C35H52O4
Molecular Weight: 536.78
Density:1.011 g/cm3
Melting Point:79-80℃
Boiling Point: 616.825 °C at 760 mmHg
Flash Point:340.861 °C
Purity(HPLC): >85%
Apperarance: Brown fine powder 
Function:
1. Anti-depression
2, Anti-virus
3, Anti-cancer
4, Immune function
About Hyperforin:
Hyperforin can be extracted from Hypericum perforatum (St John's wort), Hyperforin is a plant-derived compound that has been found useful in the treatment of depression.Hyperforin has also been found to have antibacterial properties against gram-negative bacteria.
For more information of product, please send the email to sales@boliseco.com


After send online enquiry, we will reply you as soon as possible, if not get any response on time please contact us by Tel or Email.This form is unable to receive your inquiry from aol, hotmail, gmail or others but company email address.
E-MAIL:sales@boliseco.com
TEL: +86 592 536 5868
WHATSAPP: +86 189 6516 2351