High-flavone Tartary Buckwheat Extract
High-flavone Tartary Buckwheat Extract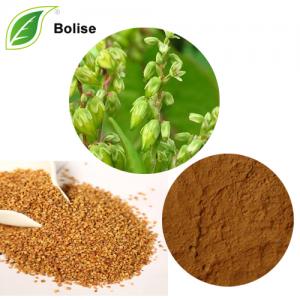 Botanical name: Fagopyrum tataricum(L.)Gaertn
Specifications: 10:1
Appearance: brown powder
Chemical composition:
1. Flavonoids
Such as: Quercetin; Kaempferol; Isokaempferol; Kaempferol-3-O-rutinoside; Quercetin-3-dirhamnoside;
Orientin; Isoorientin; Isovitexin.
2. Carcass
Such as:β-sitosterol; β-sitosterol palmitate; Stigmast-4-thene-3,6-dione; Daucosterol; 
 Ergosterolperoxide.
3. Phenols
Such as: Protocatechuicacid; Chlorogenicacid.
4. Other
Such as: Emodin; Ursolic acid.
Pharmacological effects:
1.Anti-fatigue effect
2. Analgesic and anti-inflammatory
3. Anti-cancer and anti-cancer
4. Cardiovascular effects
5. Antioxidant effect
6. Estrogen-like effects
7. Liver protection
About High-flavone Tartary Buckwheat Extract:
Tartary buckwheat has become a popular functional food in many countries and is well known for its hypoglycemic activity.Although some studies have found buckwheat is hypolipidemic,there is no study that has compared the relative cholesterol-lowering activity of tartary buckwheat flour(TBF) with other flours commonly consumed in humans.
High-flavone Tartary Buckwheat Extract has a variety of physiological activities such as blood sugar lowering, blood lipids, anti-oxidation and scavenging free radicals, as well as enhancing the body's immunity. It also has a good therapeutic effect on diabetes, hypertension, hyperlipidemia, coronary heart disease, stroke and other diseases.
For more information of product, please send the email to bkherb@globals-globals.com


After send online enquiry, we will reply you as soon as possible, if not get any response on time please contact us by Tel or Email.This form is unable to receive your inquiry from aol, hotmail, gmail or others but company email address.
E-MAIL:bkherb@globals-globals.com
TEL: +86 592 536 5868
WHATSAPP: +86 189 6516 2351