Camu-camu (Myrciaria dubia) extract (NLT 17% of vitamin C)
Camu-camu (Myrciaria dubia) extract (NLT 17% of vitamin C)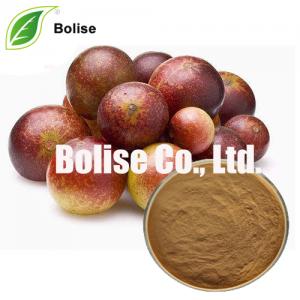 Latin Name:Myrciaria dubia
Active ingredients:Vitamin C
Appearance: Light yellow-brown fine powder
Part of used: Fruit
Specification: 20% VC HPLC, Fruit Powder, Ratio Extract 5:1, 10:1, 20:1etc.
Testing Method: TLC/HPLC
Function of  Camu-camu (Myrciaria dubia) Extract:
1. Vitamin C - more than any other food;
2. Strengthens immune system;
3. High in anti-oxidants;
4. Balances Mood - effective and safe antidepressant;
5. Supports optimal function of nervous system including eye and brain functions.
6. Provides arthritic protection by helping reduce inflammation;
7. Anti-viral;
8. Anti-hepatitic - protects against liver disorders, including liver disease and liver cancer;
9. Effective against all forms of the Herpes virus;
Application of Camu-camu (Myrciaria dubia) Extract:Functional food, health food, drink, medicine, etc
About Camu-camu (Myrciaria dubia) extract (NLT 17% of vitamin C) :
Camu-camu contains high amount of vitamin C (2,780 mg per 100 g). The findings of this study suggest that camu-camu, in the traditional way of preparation, may significantly reduce nonheme iron bioavailability because of its high polyphenol content which overrides the beneficial effect of its high ascorbic acid content.
Camu-camu fruit has attracted interest from food and cosmetics industries because of its rich content of vitamin C, flavonoids and anthocyanins. 
For more information of product, please send the email to bkherb@globals-globals.com


After send online enquiry, we will reply you as soon as possible, if not get any response on time please contact us by Tel or Email.This form is unable to receive your inquiry from aol, hotmail, gmail or others but company email address.
E-MAIL:bkherb@globals-globals.com
TEL: +86 592 536 5868
WHATSAPP: +86 189 6516 2351