Calumba Root Extract (Cocculus Palmatus Extract)
Calumba Root Extract (Cocculus Palmatus Extract)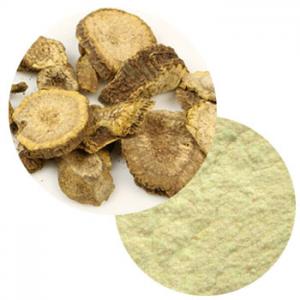 Other name: Jateorhiza Extract;Calumba Extract;Columbo Extract
Botanical name: Jateorhiza palmata.
Appearance: Greenish-yellow powder
About Calumba Root Extract (Cocculus Palmatus Extract):
Calumba Root is one of the purest bitter tonics in the world.Calumba root is an herbal medicine that is used for poor digestion, especially due to low stomach acid, diarrhea, gas, and loss of appetite.As a bitter tonic, it serves to improve appetite and is helpful for dyspepsia. It can used in convalescence from febrile and inflammatory diseases.It is most useful in the remittent and intermittent fevers of hot climates. 
Calumba root contains three yellow crystalline alkaloids, viz. jateorhizine, columbamine, and palmatine, the latter in small quantity only.
Calumba root makes a good remedy for vomiting and nausea, especially during pregnancy.  Calumba is employed as a stomachic and bitter tonic.
For more information of product, please send the email to bkherb@globals-globals.com


After send online enquiry, we will reply you as soon as possible, if not get any response on time please contact us by Tel or Email.This form is unable to receive your inquiry from aol, hotmail, gmail or others but company email address.
E-MAIL:bkherb@globals-globals.com
TEL: +86 592 536 5868
WHATSAPP: +86 189 6516 2351