Benincasa Hispida (Wax Gourd) Fruit Extract (Solvent Extraction) Powder
Benincasa Hispida (Wax Gourd) Fruit Extract (Solvent Extraction) Powder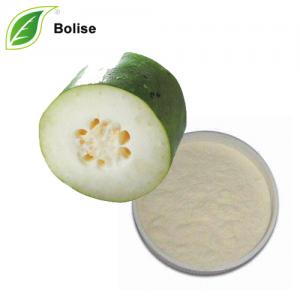 Extract Method:Water
Appearance: Light yellow powder
Part Used: Fruit
Function:
1.Detumescence.
2.Clear summer-heat.
3.Treat heat stranguria.
About Benincasa Hispida (Wax Gourd) Fruit Extract (Solvent Extraction) Powder:
Active fraction of Benincasa hispida showed better result in reducing lipid levels such as cholesterol and Triglycerides (TG), Low density lipoprotein (LDL), free fatty acids, Phospholipids, Insulin, HOMO-IR, leptin and enzyme levels. Homocysteine and apolipoprotein B (Apo- B) was an important cardioprotective marker.
These parameters also were reduced in AFBH and EEBH treated groups, EEBH and AFBH increases HDL and adiponectin levels, when compared with HFD fed groups. Antilipidemic activity was observed with AFBH.
Benincasa hispida is well known for its medicinal property. In the Ayurvedic system, it is used as a rejuvenating agent and in the treatment of nervous disorders. Methanolic and petroleum fruit extracts was subjected to evaluation of phytochemicals and acute oral toxicity study. Further, Anti-inflammatory activity was performed using human red blood cell (HRBC) membrane stabilization assay and carrageenan induced paw edema in rat. Oral administration of methanolic extract of concentration (350 mg/kg) significantly reduced the paw edema ( P < 0.05) in a dose dependent manner as compared to carrageenan induced rats.
Benincasa Hispida (Wax Gourd) Fruit Extract increased the latencies of both clonic and tonic convulsions and delayed their mortalities. Its ability to reduce both neurogenic and non-neurogenic pains may be related to its active constituents such as tannins, saponins, steroid and flavonoids.
 
For more information of product, please send the email to bkherb@globals-globals.com


After send online enquiry, we will reply you as soon as possible, if not get any response on time please contact us by Tel or Email.This form is unable to receive your inquiry from aol, hotmail, gmail or others but company email address.
E-MAIL:bkherb@globals-globals.com
TEL: +86 592 536 5868
WHATSAPP: +86 189 6516 2351