White Willow Bark Extract
White Willow Bark Extract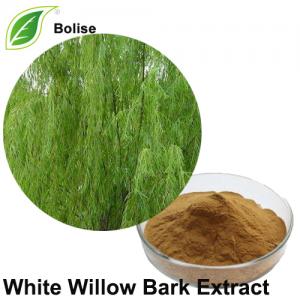 [ Botanical name ]          Salix babylonica L.
[ Specification ]  30% 50% Salicin
[ Detection methods ]    HPLC
[ Used Part ] Bark
[ Appearance ] Dark Brown Powder
COA of White Willow Bark Extract
Loss on drying: 3.64%
Mesh Side: 100% pass 80 mesh
Extract Ratio:  10:1
Heavy metal: ≤10ppm
As: ≤0.5ppm
Pb: ≤0.5ppm
Cd: ≤0.5ppm
Residual Pesticide: Negative
Total Plate Count:  ≤1000cfu/g
Yeast & Mold:  ≤100cfu/g
Salmonella:  Negative
E. Coli:  Negative
About White Willow Bark Extract
White Willow Bark Extract is an antiseptic. The salicin in the herb is converted into salicylic acid and other related compounds by the liver and is excreted as such in the urine, which makes it helpful for treating kidney, urethra, bladder and other urinary tract irritations. It has also been used as a remedy for diarrhea, dysentery and minor infections.
[ Beneficial Uses ]
 White Willow Bark has been employed for thousands of years as a reliable painkiller. It is used to relieve the pain of headaches, migraines, backache, nerve pain, menstrual cramps, toothache and the pain of minor injuries. The analgesic actions of White Willow Bark may be slower-acting than synthetic aspirin, but the results last longer, as the painkilling compounds remain at stable levels in.
[ Molecular formula ]    C13H18O7
[ Pharmacology function ]
Anti-inflammation, pain relief, fever relief, anti-rheumatism and function of constringency
[ Storage ]  Store in cool and dry place.keep away from strong light and heat.
[ Shelf life ] 24 months.
 
For more information of product, please send the email to bkherb@globals-globals.com


After send online enquiry, we will reply you as soon as possible, if not get any response on time please contact us by Tel or Email.This form is unable to receive your inquiry from aol, hotmail, gmail or others but company email address.
E-MAIL:bkherb@globals-globals.com
TEL: +86 592 536 5868
WHATSAPP: +86 189 6516 2351