Ursolic Acid (Loquat leaf extract ,Glossy Privet extract)
Ursolic Acid (Loquat leaf extract ,Glossy Privet extract)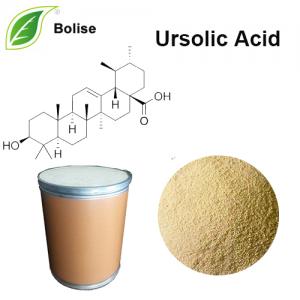 [ Specification ]   6%-98% Ursolic Acid
[ Detection methods ]  HPLC
[ Source ]  Loquat Leaf and Glossy Privet
[ Appearance ] Popcpm Amorphous Powder
[ Part Used ] leaf
[ Extract Solvent ] Ethanol & Water
[ CAS No ]  77-52-1
[ Molecular Formula ] C30H48O3
[ Molecular Weight ]  456.68 
COA of Ursolic Acid
Particle Size: NLT100%Through 80 mesh
Loss on Drying:    ≤8.0%
Ash content:    ≤5.0%
Bulk Density:41 g/100mL
Total Heavy Metals: ≤10ppm
Arsenic: ≤2ppm
Total Yeast & Mold: ≤100cfu/g
About Ursolic Acid (Loquat leaf extract ,Glossy Privet extract)
Ursolic acid was considered to be pharmacologically inactive. Thus, ursolic acid and its alkali salts (e.g. potassium or sodium ursolates) were exclusively used as emulsifying agents in pharmaceutical, cosmetic, and food preparations.However, upon closer examination, ursolic acid was found to be medicinally active both topically and internally1. Its anti-inflammatory, antitumor (skin cancer), and antimicrobial properties make it useful in cosmetic applications. Ursolic acid is a potent anti-inflammatory agent. Ursolic acid treatment improves the health of skin and hair. Ursolic acid and its derivatives form oil-resistant barriers on the skin and hair as they do in the waxy coating of fruits. 
[ Expiration Date ] 2 Years when stored properly
[ Packing and Storage ]  Inside: Plastic bag, Outside: Neutral cardboard barrel & Leave in the shady and cool dry place.
For more information of product, please send the email to bkherb@globals-globals.com


After send online enquiry, we will reply you as soon as possible, if not get any response on time please contact us by Tel or Email.This form is unable to receive your inquiry from aol, hotmail, gmail or others but company email address.
E-MAIL:bkherb@globals-globals.com
TEL: +86 592 536 5868
WHATSAPP: +86 189 6516 2351