Turmeric Root Extract
Turmeric Root Extract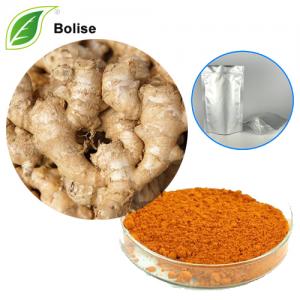 [ Botanical Name ]  Curcuma longa Linnaeus
[ Appearance ]  Orange yellow powder 
[ Used Part ] Root
[ Specification ]  0.3%curcumin,tumerone
[ Detection method ]  HPLC
COA of Turmeric Root Extract
Loss on drying: 1.45%
Ash: 0.14%
Mesh Side: 100% pass 80 mesh    
Curcumin: 54.62%
Heavy metal: ≤10ppm
As: ≤2.0ppm
Residual Pesticide: Negative
Total Plate Count: ≤1000cfu/g
Yeast & Mold: ≤100cfu/g
Salmonella: Negative
E. Coli: Negative
About Turmeric Root Extract
Turmeric Root Extract is one of the most widely used herbs for joint support, it is commonly combined with ginger. Although best known as a spice that gives a distinctive flavor and yellow color to curry powder and mustard, turmeric (Curcuma longa) is a member of the ginger family and has long been used for healing.  
Turmeric has strong antioxidant activity. It is more potent than either vitamin C or vitamin E. In the body these important disease-fighting substances mop up unstable oxygen molecules called free radicals that can otherwise damage cells and cause diseases such as cancer. 
One component, dimethylbenzyl alcohol, normalizes cholesterol in the blood, while curcumin removes accumulation of cholesterol in the liver. Turmeric normalizes arterial health. 
Turmeric Root Extract is also called for when indigestion, gas, and eliminatory issues imbalance the body. 
For more information of product, please send the email to bkherb@globals-globals.com


After send online enquiry, we will reply you as soon as possible, if not get any response on time please contact us by Tel or Email.This form is unable to receive your inquiry from aol, hotmail, gmail or others but company email address.
E-MAIL:bkherb@globals-globals.com
TEL: +86 592 536 5868
WHATSAPP: +86 189 6516 2351